Year of the iDog
Apple's active share of the total Chinese smartphone market is growing again, back to 20%: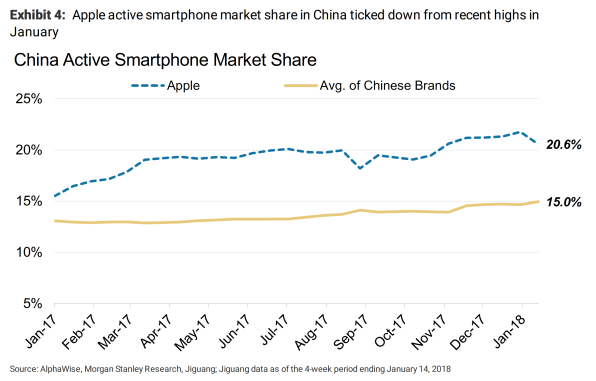 This is despite 2017 being the second year in a row where sales in Greater China decline. After 2015's record figures of about 58 million iPhones sold, 45 million in 2016 and "only" 41 million in 2017. Will Apple be able to revert the trend for the year of the Dog? I don't think so, but only time will tell.
---
The Apple Watch closed it's third year on the market with stronger than ever figures after a bleak 2016. We only have one report of 2017 sales data, from Canalys, that sets the total shipments at 18 million, 8 of those being in the last calendar quarter.
I keep tab of the tallies given by IDC, Canalys and Strategy Analytics and average them out after they're public. Here they are:
More seasonality, but this is to be expected pic.twitter.com/b184JsraqX
February 13, 2018
Which means that not only the Apple is now shipping more units that the entire Swiss watch industry, but it's also selling as many Apple Watches as it sells Macs.
Underreported story: Apple sells as many Apple Watches as Macs now pic.twitter.com/cqwc9rKdEW
February 13, 2018
---
The HomePod first week in the market has been a rollercoaster of emotions for Apple enthuasiasts. The reviews could be summarised as "great speaker, meh Siri".
But the conversation quickly switched to the residue left by the HomePod on some wooden furniture. Which has been already solved for $19,95 by Apple's big 3rd-party ecosystem of "stuff". Apple fans were quick to denouce that the Sonos One smart speaker has the same flaw. The company quickly issued an statement about it.
---
One More Thing: