Titan shake-up, battery maestro snatch and a look into China
Apple dismissed over 200 employees from Project Titan.
The mysterious group that is home to their autonomous vehicle research got a shake-up, but the dismissals from the group were seen internally as anticipated restructuring under the relatively new leadership. — I wouldn't read much into it.
Context: "We continue to believe there is a huge opportunity with autonomous systems, that Apple has unique capabilities to contribute, and that this is the most ambitious machine learning project ever."
---
Apple hired Samsung SDI leader of battery R&D.
Soonho Ahn joined Apple back in December as "head of battery developments". The move suggests that Apple is considering designing their own iPhone batteries, currently made by SDI.
---
The seventh generation of the iPad and the fifth of the iPad Mini are coming, as they just appeared in a major consumer regulator database. — My guess would be March or April.
---
Apple took the iPhone SE out of retirement for a last ride.
A surprising revival of a much beloved (if now, old-ish) phone, but only for a few days in the US, as the remaining stock sold out. A clearance. — The news prompted questions of an hypothetical successor.
---
iPhone sales fell 20% in China last quarter.
Sales went down from 14 million a year ago to 10.9 million last quarter. Huawei took the lion share and breached an incredible 30% of the sales, according to Strategy Analytics.
Context: The Chinese smartphone market had a very bad Q4 2018, as reported by almost every other metric and consumer sector. Apple fell 22%, while the smartphone sales in China fell 11%. That's rough. Let's see how 2019 starts.
Context (II): Our friends at Counterpoint gave a few more points for the November month, where the iPhone fell 20% from a year ago. That's worldwide data. The XR was then the most popular, as Apple said. Here's their chart: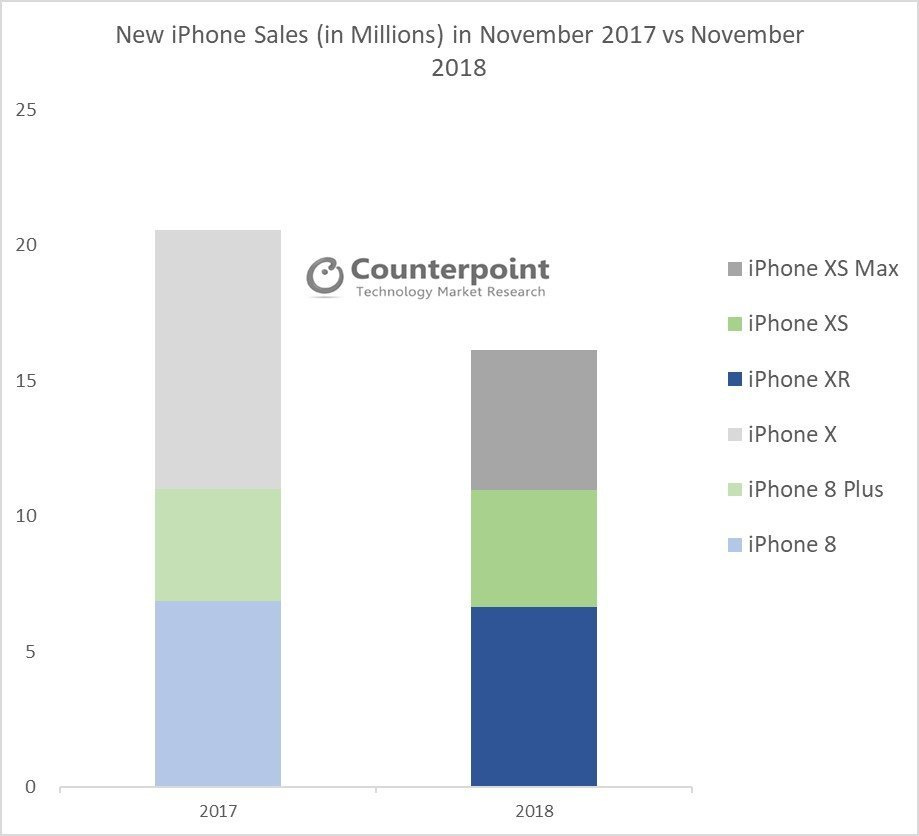 ---
The moral case for iMessage on Android.
Interesting article. The gist of it seems to be that Apple puts profits first and "humanity" last when it comes to iMessage. A bit grandiose, but I get it.
By keeping a secure, lightweight, devoid of ads and user tracking, multi-platform messaging platform to iOS and macOS, other users must use other stuff. If you have an iPhone or an iPad, but also a Windows or Android machine, iMessage's value diminishes.
Context: iMessage as "the platform" is a US-only thing. Even in other countries with huge iOS penetration such as Australia or the UK, WhatsApp rules with an iron fist.
---
This Tuesday Apple will share their 2019 Q1 financial results.
The first in the no-units era, and a very critical at that, after Tim Cook's letter to investors three weeks ago. It will be full of things to ponder for a few days.
---
More from the orchard
---
Competitors