The tough decisions of Chairman Cook
How do you say headache in Mandarin?
Greetings! Coming right up, the most interesting stuff about Apple in the past week. — Please forward this email to anyone you think might find it interesting. We're trying a new format this week.
---
Hardware
🎧 AirPods Pro are here. With active noise cancelation and they're sweat- and water-resistant. A long-desired feature. They've got wider charging box with wireless charging (no other option) and those silicone things. $249/€279 in October 30th.
👉 Now Apple has a dozen or so different headphones.
📱 The new iPhone SE looks like it's real this time. Supply analyst Kuo is certain of it, and claims the new model its entering mass production now for an early 2020 release. — It'd make sense if they call it "iPhone 9", right?
China
🇨🇳 Tim Cook met with Chinese regulators to talk, according to the govt., about "expanding investment in China, consumer rights protection and fulfilling corporate social responsibility". I'm sure other talks were had. 
🇺🇸 Apple got "bipartisanly" roasted at home by Congress members in a letter that surely was easy to write, but with no bite about Uyghur, Tibetan or Cantonese minorities. Nothing of substance, but show's Apple is a tough position.
🥺 Apple didn't want to anger China with its shows and it played the traditional Hollywood game of self censorship around Chinese matters.
🎓 After all the mess of the last two weeks, probably wasn't the best time (PR wise) to announce that Tim Cook will become "Chairman" of Tsinghua University. It's just bad optics.
Cook's role will be to promote development of the college and make it a world-class economic management school. His mandate will last from 2019 to 2022.
---
Television
🤭 Apple's new shows got grilled by the critics. "For all Mankind" looks like the best of the company's four premium series. I won't pretend to understand the tv show business, so here's a recap's recap:
Pretty much a heterogeneous but imperfect start, there's something for everybody. 
🎞 Apple will create its own in-house movie studio with a Band of Brothers sequel as its first project. Probably a couple of years away at least.
More TV
💰 Apple TV+ could rack up over 100 million subscribers in its first year, according to Barclays.
🔥 Apple TV app now works on Amazon devices.
🌌 Foundation series has casted two main protagonists. Jared Harris will be Hard Sheldon, Lee Pace will be the Emperor. The show looks like it will be more of a lose adaptation of the original trilogy.
🤝 Apple has finalized a multi-year overall deal with Alfonso Cuarón for exclusive content.
💻 Netflix won't port the iPad app to Mac with Catalyst for some reason.
🔌 Apple hid a Lightning connector for debugging in the Apple TV 4K's ethernet port
---
Music
🎶 Spotify keeps outperforming Apple Music after adding 5 million more subscribers in the last quarter: 113 million vs 60 million for Apple Music as last reported. Here's a bunch of charts.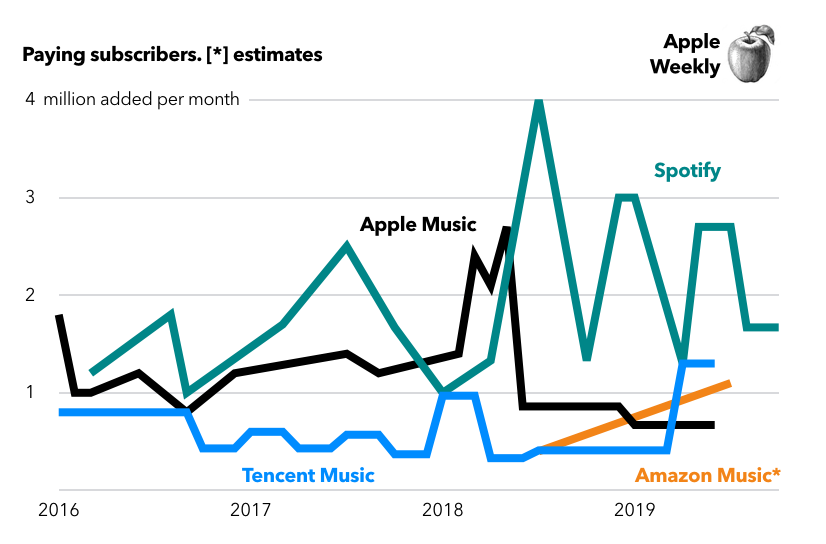 🎧 Also worrying for Apple: Spotify is gaining share of the podcast market, hours streamed up 39% over last quarter.
💸 Apple gets more money per subscriber than Spotify according to Counterpoint Research, which puts Apple's share of the revenue at 25% with only 20% of worldwide subscribers, versus Spotify's 31% revenue with 35% subscribers.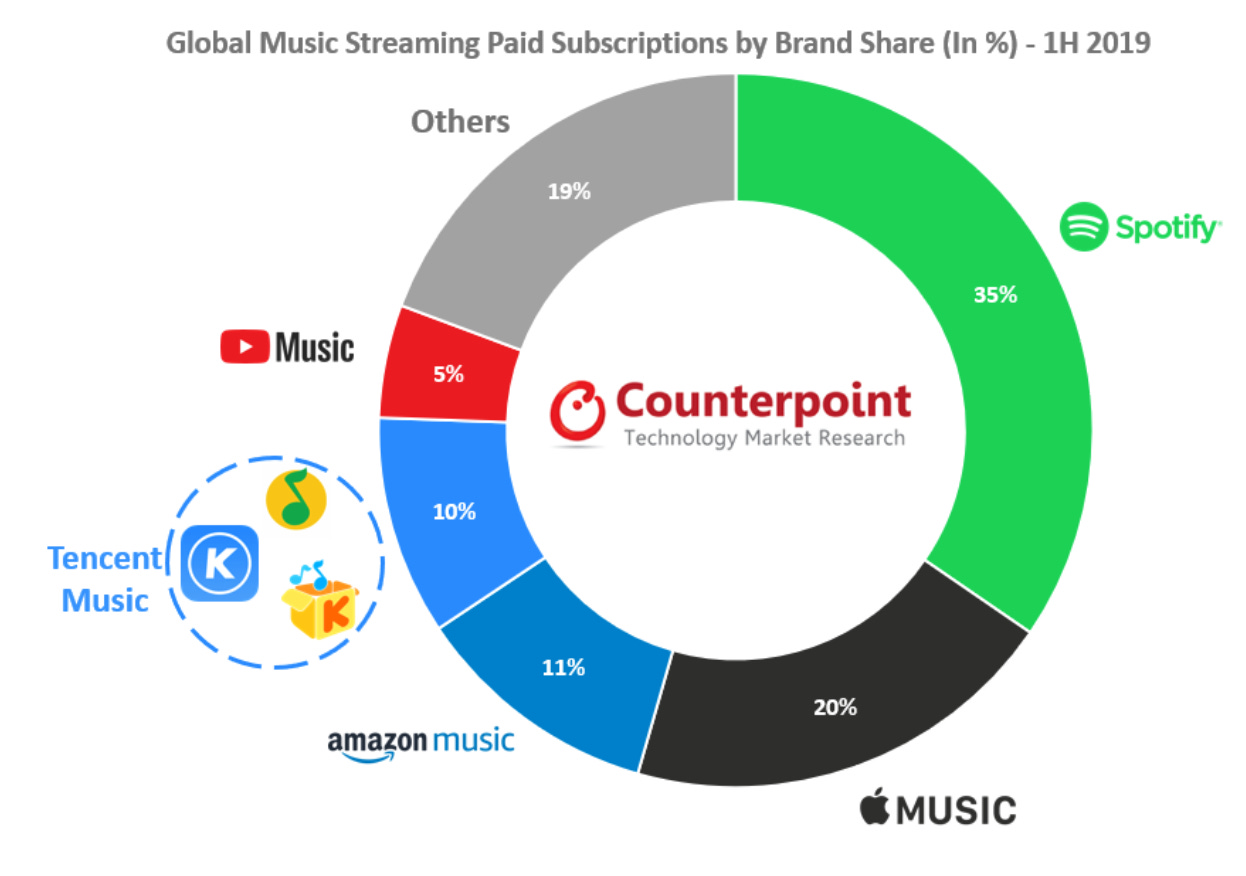 ---
Money
🇪🇺 European Union questions Apple Pay, asking "providers, banks and app businesses" about how its devices may favor Apple Pay over other payment solutions.
📈 Apple Pay overtook Starbucks as the most used mobile payment app in the U.S. According to eMarketer, Apple will have 30 million users, five million more that Starbucks' own app.
📉 Reminding people of subscriptions increases cancel rate.App Store new protections in iOS 13 remind customers to cancel active payments to apps when uninstalling, causing a 60% drop in some lower value subscriptions.
---
More from the orchard
🎮 Apple Arcade has an indie rival in the App Store: GameClub offers more than 50 games for 5$ a month.
📕 WSJ's Tripp Mickle is writing a book about Apple after Steve Jobs.
🇬🇧 Apple finds a new temporary home in the UK while it waits for the redevelopment of Battersea.
🎵 Shazam financials reveal it added 78m users last year and closed 2018 with 478 million active users.
🤩 Longtime Apple employee Ricky Mondello explained how AutoFill "magic" works and how it came to be.
---
Thank you for reading Apple Weekly. Please consider forwarding this email to your contacts or hitting the like button below. — Alex