The MacBook Collusion
New MacBooks, wrong estimates, new iPads, security kung-fu and the history of accessibility in iOS
Greetings! Coming right up, the most interesting stuff about Apple in the past week. — Please forward this email to anyone you think might find it interesting.
---
The MacBook line up got refreshed. A few and interesting changes for the new school season. The 15" MacBook Pro is still the same, while the rumor drums for a 16" MacBook Pro with scissor keys keep banging.
---
The Mac line is selling more? less? We don't know. Gartner and IDC released new PC shipments data. Gartner claims Apple shipped 3.7 million Mac computers in 2019 Q2, IDC says 4.1 million. — Apple is still holding up in the "Post PC" era much better than the overall PC industry.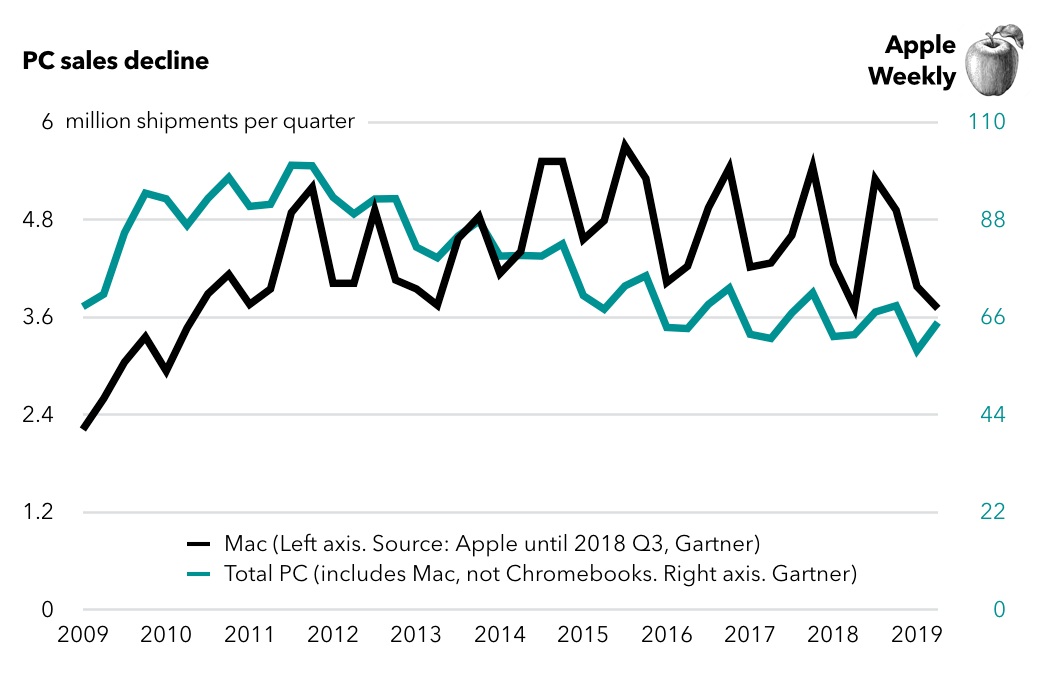 A cautionary tale from last year: Both IDC and Gartner stated that Apple had shipped 4.3/4.4 million computers in 2018 Q2, and now they've updated those figures to 3.7 million (the second to last public number that Apple released). Small corrections are common, but 700,000 unaccounted computers, much less so.
---
Five new iPads coming. Oddly, in 10.2" and 10.5" sizes. One would be the new cheap iPad (currently $350 and 9.7") but the other one is a puzzle.
---
Ireland opens a third GDPR inquiry to Apple. The case is in relation to an access request from a customer. Probably nothing, as the company was more than ready for the European privacy super law earlier and with more severe measures than required. — Apple has a few more probes open for other EU countries.
---
Apple shows its Security-Kung Fu black belt this week in two separate events regarding potential real life spying exploits
---
How the iPhone went from zero to master of accessibility. For a couple of years the iPhone lacked any accessibility features. This wonderful article does a year by year timeline of all the changes that made the iPhone a must have for people with disabilities.
---
Amazon Music Unlimited is growing faster than Apple Music or Spotify. According to Midia Research Amazon boasts 32 million paid accounts, up from 19 million last year, and it has an older user base. It certainly is growing faster than Apple Music, but not Spotify.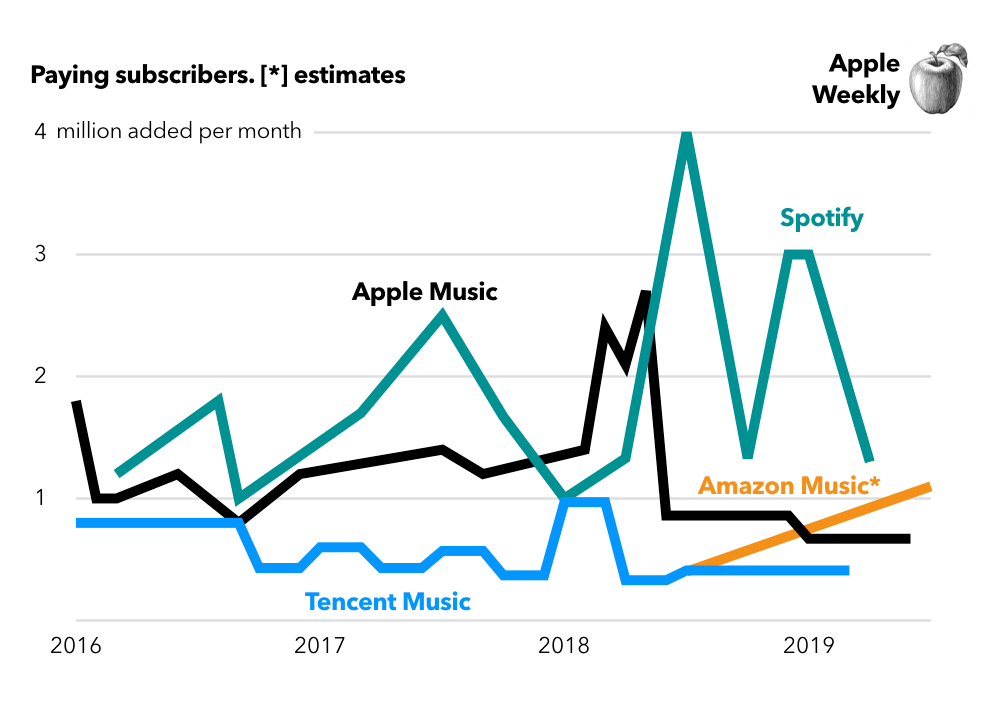 Notes:
---
Apple has a new fancy Store in the fanciest airport in the world. Singapore's Jewel Changi is a breathtaking facility with lots of stores (and planes), and the place to Apple's #503 store, the second in the tiny nation.
Notes:
---
The iPhone 6 of a teenager in California blew up while charging. Sparking the fears of a PR nightmare. It probably will end up being a cheap cable. The company is investigating the reasons, while local TV does its thing.
Notes: "Overheating by pillow" is a real issue, and Apple should make iOS more proactive to shut down when temperatures raise. I use the smartphone all the time while charging and it gets too hot to fast, much more so in the Spanish summer, which can't be that much different from the Californian summer.
---
Bill Gates praised Steve Jobs again. In an interview with CNN.
"It's really easy to imitate the bad parts of Steve. The times being an asshole... and it is... I have yet to meet any person who, in terms of picking talent, hyper-motivating that talent, and having a sense of design of, oh, this is good, this is not good"
Curious timing, Just as Ive left the company.
"He would be casting spells, and I would see people mesmerized, but because I'm a minor wizard, the spells don't work on me."
Gates is such a nerd. Love him.
---
How long does apple support older iPhone models? Statista made a chart of al the iPhone models with the iOS versions that run in them. Five years looks like the standard. — iOS 12 was a soothing update that made up for a crazy buggy iOS 11. Will the 6s and the SE get iOS 14?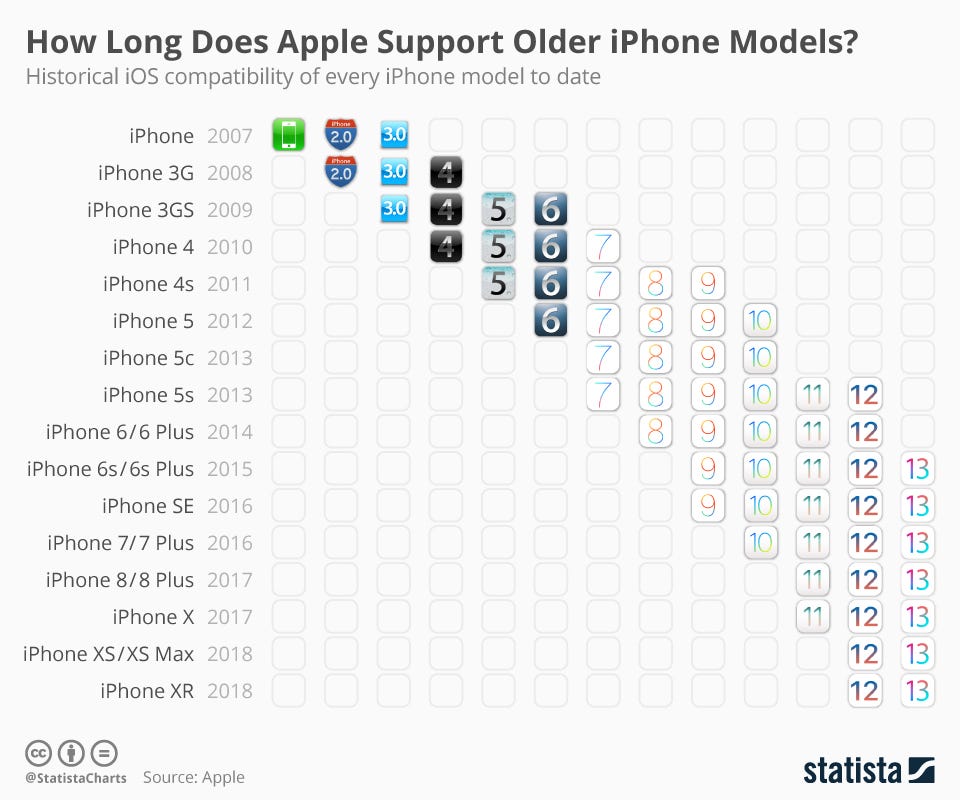 ---
More from the Orchard