That's a lot of estimates
33 or 38 million iPhones? Who knows. / Apple Watch sales hit 70 million / Siri grading paused / Apple Music growth slows
Greetings! Coming right up, the most interesting stuff about Apple in the past week. — Please forward this email to anyone you think might find it interesting.
---
How many iPhones then? After Apple stopped telling us how many iPhones it sold nine months ago, we only have external consultants to look for some guidance. I gathered their data:
IDC says 33.8 million.

Canalys assumes 36 million.

Counterpoint Research claims 36.4 million.

Strategy Analytics puts it at 38 million.

IHS says 35.3 million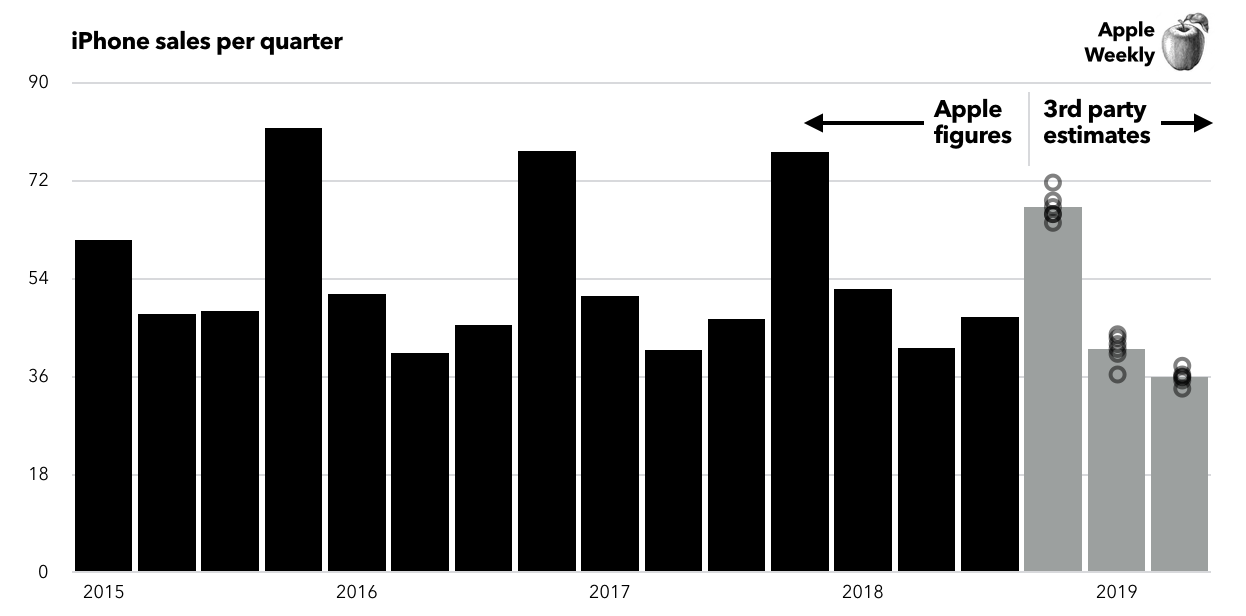 That's an average of 35.9 million with a relatively high variance of 4.2 million, and it would represent a drop of 13% from a year before from the official figure of 41.3 million. iPhone revenue fell 12% so it checks out. I won't bore you anymore with words, here's in chart form: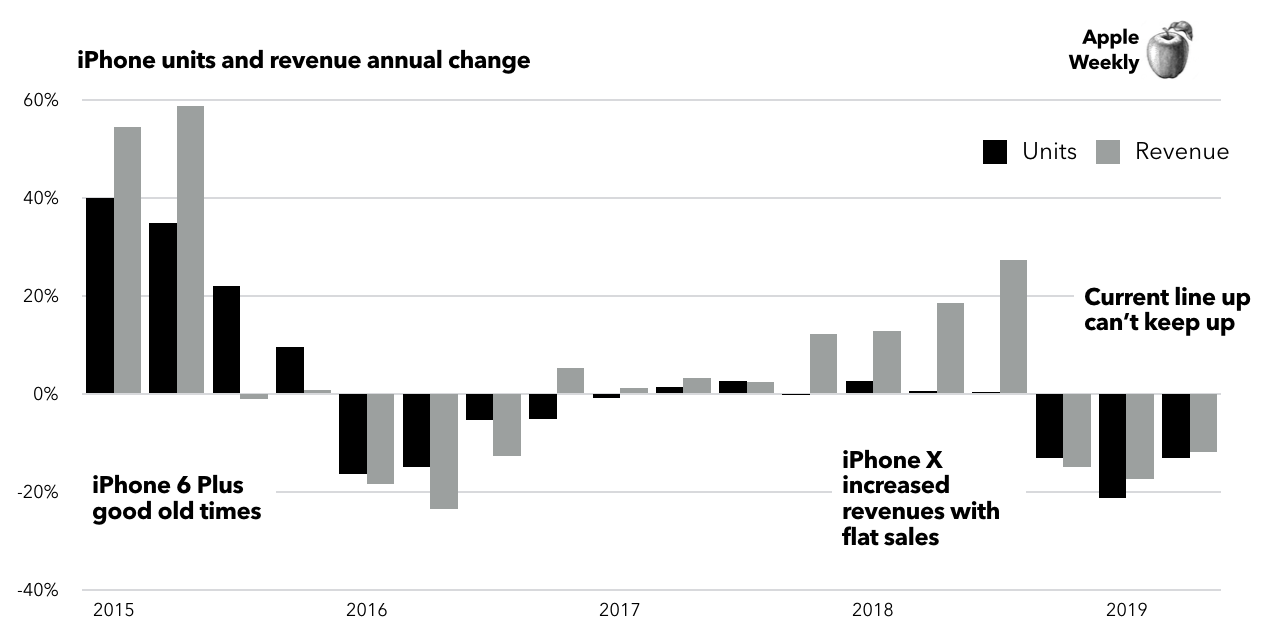 Looking at the new line up, we know the XR leads in sales, overall the decline is clear and although things seem to be improving, as Tim Cook said and data shows, in the first half of 2018 Apple sold 93.5 million iPhones, while this year only 77 million.
Currently, iPhone sales for 2019 are on par with those in 2014 for units, and 2016 for revenue. The iPhone installed base is still growing, even if slower.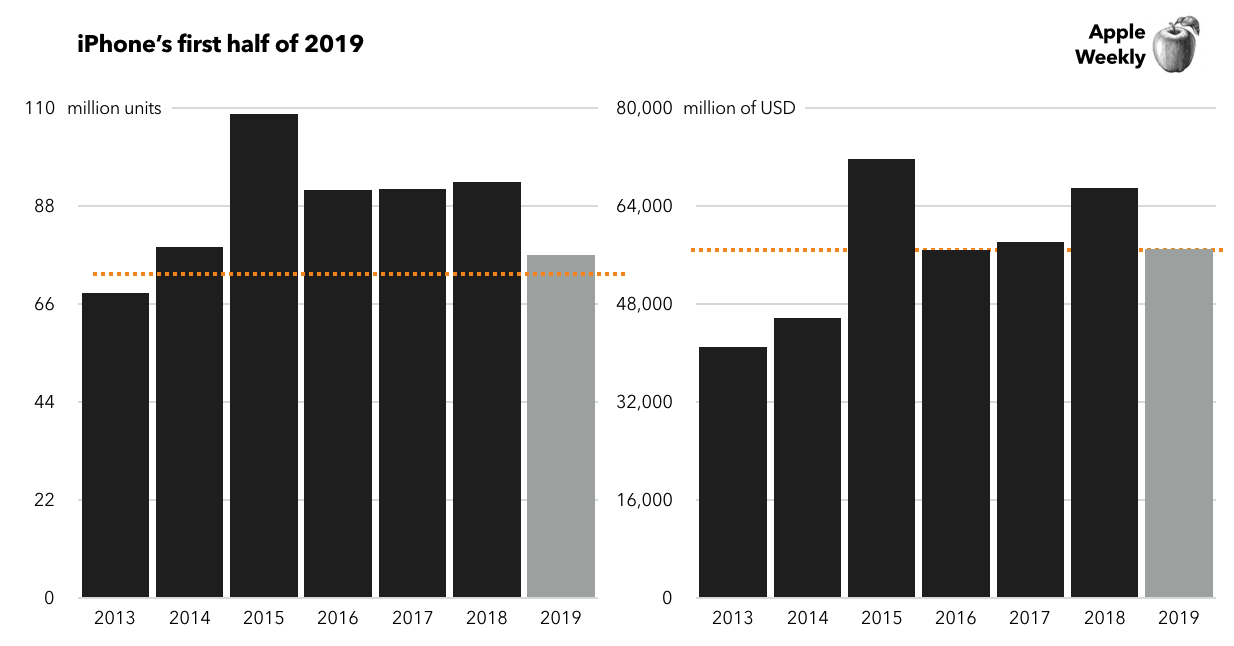 What will the iPhone 11 prices be? Lower entry price for the "R" variant? Even more expensive to increase revenue per customer? Who knows. The yuan and trade tariffs will have a say on this. More on that down below.
---
And the Apple Watch? We never knew how many watches the company is selling, but with a few hints from Apple and third party estimates, this is the best chart I can give you.
The last quarter data comes from a lonely report from Strategy Analytics. A total of 70 million Apple Watch units would've been sold if this data is accurate. Likely the company will hit the 100 million mark in 2021.
---
Apple rolls out Apple Card to a few selected users. The onboarding looks very well designed and, honestly, it could even be a good thing for the industry, at least in the U.S. where it will be exclusively launched this month. Here's a good round-up of its features.
My super deep take, you ask? I don't like or trust Goldman Sachs or anything that has to do with it, and anyone drooling over a "shiny card" is a fool.
---
Apple paused the Siri 'grading' where humans listened to some of our conversations with Siri while the company conducts "a through review". Irish contractors were sent home for the time, I'm unsure about those in Spain.
A few points:
Listening to Siri conversations seems like the best way to improve the service.

Apple's privacy stand makes them more vulnerable to public opinion on this. Why not pay some customers then?

The company should also have detailed explicitly in their terms of service that actual, real humans listened to some of our conversations.
---
Why is Apple doing exclusive podcasts? Although the endeavor hasn't been corroborated by Apple yet, it's a good question. The key quote is "Someone that uses Apple Podcasts is more likely to use Apple Music, and so on". So, a hedge.
On this regard, one of the most interesting and misspent boosts to Apple Music is the Beats 1 radio station. I assumed they would be making a whole lot of them instead of just one focusing on the over-served "Top 40" for American and British audiences. Where are Beats Japan, Beats Latino, Beats Indie, Beats Rock, Beats China, Beats Classic, etc?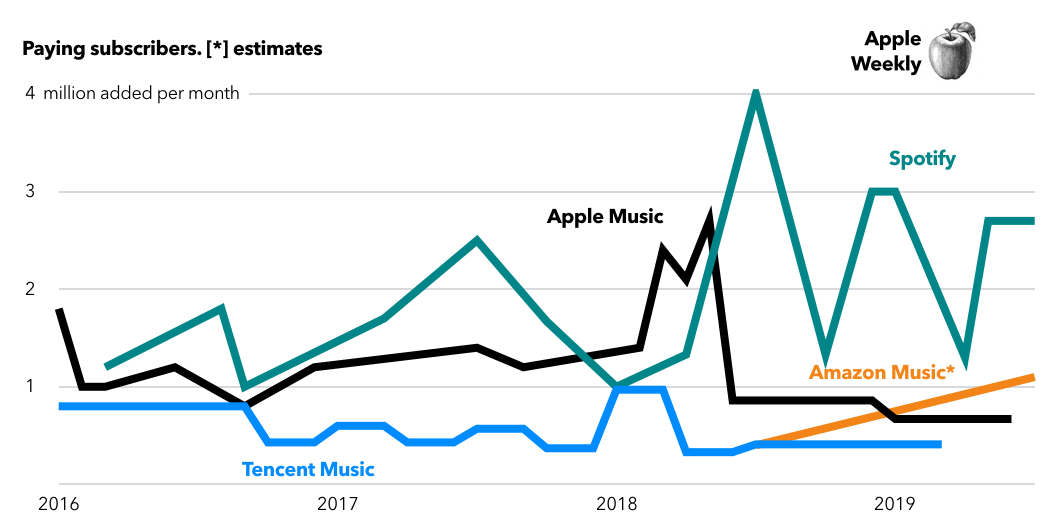 Anyway, Spotify announced new figures (108 million paid subscribers, up 31% from last year) and it keeps gaining share while Apple Music growth stalls a bit. It looks like there's room for several of these services and I could see Apple Music hitting 100 million subscribers in the very long term (that'd be a $5-6 billion business).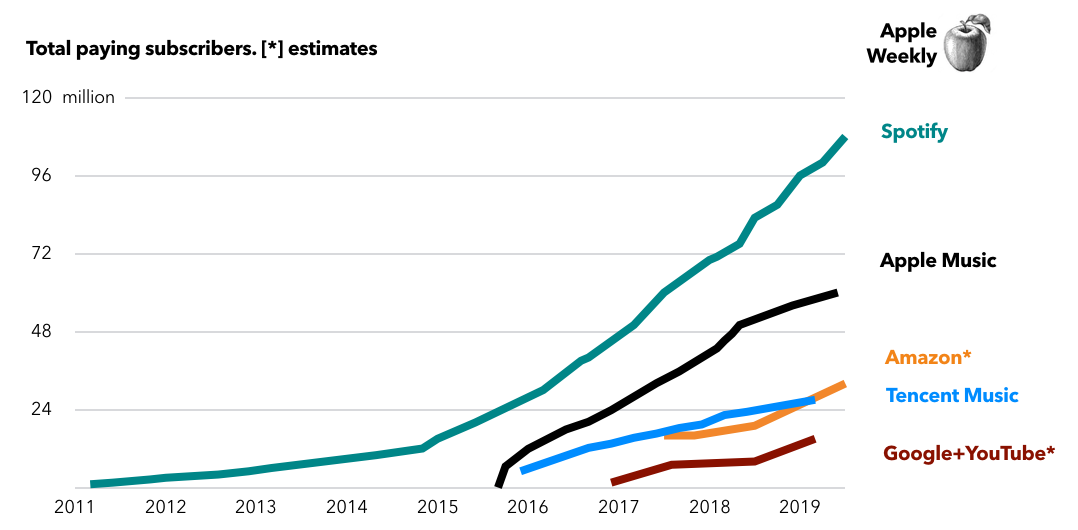 ---
China is doing something with their currency. Or not. Experts disagree on how the Yuan price will affect the world economy, and what's more important, the iPhone price. Weaker yuan means Apple will pay Hon Hai fewer dollars to assemble each unit. So far it seems to be going in that direction, but it's a relatively minor change.
We also have to wait to see if the extended U.S. tariffs will affect the iPhone price come autumn. Bank of America says probably:
Apple might raise prices of iPhones by around 10%, reducing demand by 20% or around 10 million units.
While TFIS' Kuo says Apple will take the hit:
we forecast that, in the mid-short term, Apple will absorb most of the additional costs due to tariffs.
---
HomePod stays the same in the U.S. according to recently released CIRP data that puts it around 5% of the total 76 million installed base for smart speakers in the country. Down a bit from 6% (of 66 million) in late 2018, and 6% (of 50 million) a year ago.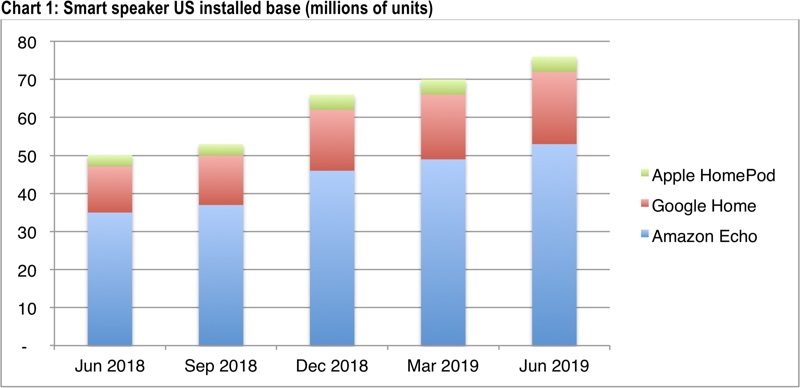 That translates to a total of about 3.8 million now down from 4 million six months ago. Taking error margins into account, it suggests few Americans bought a HomePod recently. Apple will probably never reveal HomePod sales or revenue figures anyway.

Context for those 4 million HomePods: there are over 190 million iPhones in use in the U.S. — So around 2% of American iPhone owners have a HomePod too. Probably less because I'm sure the average HomePods-per-Home is closer to 2 than to 1.
---
Apple locks iPhone batteries' software features if you change it yourself or with an unauthorized provider. Overall, this doesn't seem like a huge deal (the battery still works fine), but reminds me of the Error 53 blunder that Apple ended up fixing and apologizing for it.
---
More from the orchard
---
Thank you for reading Apple Weekly. Please consider forwarding this email to your contacts or hitting the like button below. — Alex