Singles' Day, Definers' Scandal and T2 controversy
Apple shows recent signs of strength in China after leading sales on Singles' Day
This week's Facebook scandal reveals the ugliness behind Qualcomm-Apple dispute. Definers, the PR firm hired (and fired) by Facebook was also likely employed by Qualcomm to push anti-Apple narrative to the press.
---
The iPhone was the top-selling smartphone during China's "Singles' Day" a spot traditionally reserved to Huawei or Xiaomi. Alibaba also reported that Apple was one of 237 brands to pass 100 million yuan, about 14.4 million USD, in sales during the shopping frenzy.
---
Walmart has overtaken Apple as the third largest online retailer in the US after a big push. Apple has 3.9% of total retail e-commerce sales in the US to Walmart's 4.0% according to eMarketer. eBay is #2 with 7.2% while Amazon leads with 48%.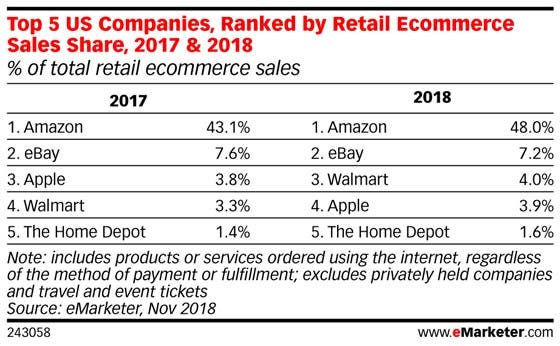 ---
Apple acknowledges the role of the T2 chip on their computers, which is to keep an eye on what kind of repairs are done on them and could remotely lock the computer when the Touch ID sensor or the logic board are repaired by an unofficial support or by a handy Mac owner.
Note: Personally, I am worried about the possibility of somebody hacking Apple's repair verification services and remotely brick perfectly fine computers.
---
Niche social network Tumblr disappears from the App Store. The the app has been missing for four days now. Some have speculated that it was over adult content appearing on the app, which would bode very bad for almost every app with user-generated content (Snapchat, Twitter, web browsers even...). Apple has been very inconsistent enforcing these rules.
---
Broadway shows turn to the Production Pro, an iPad app to ease the burden of having to print multiple copies of the script with several revisions. The stack of paper previously used could weight as much as 4 kilograms.
---
Spotify released their Apple Watch app. The app itself is very limited and a late first step. But it's something. If you're looking for a full fledged alternative for Spotify in the Watch, try Apollo.
---
Apple gets patent for offline-Siri, a useful feature that's present in many ways in other systems. Using Siri offline would be a step to increase privacy and making the assistant more helpful, specially with shortcuts.
---
Devialet has pulled their luxury speakers from the Apple Stores. The French company has been selling their hardware, best-known for its line of "Phantom" high-end speakers, in the Apple Stores since 2015. Now it says is "disappointed" with the partnership. — Franck Lebouchard (CEO) noted: "The second Apple launched HomePod and put it on the table right next to Phantom, we were all sort of disappointed".