Price cuts, podcasts and teens' love
Apple-Spotify war gets another front / Apple leads in
Greetings! Coming right up, the most interesting stuff about Apple in the past week. — Please forward this email to anyone you think might find it interesting.
---
Savings season
---
Apple hires worldwide top A.I. researcher from Google
Ian Goodfellow joined Apple's Special Projects Group as a director of machine learning in March. Goodfellow will serve under John Giannandrea (also from Google).
He is considered the "father" of the generative adversarial networks, or GANs, a powerful method that allows computers to learn by themselves in improved, if not yet fully understood, ways.
---
Apple Music overtakes Spotify in paid subs in the U.S.
The WSJ cites "according to people familiar with the matter". Apple Music now leads the U.S. —the largest paid music streaming market— by 28 million to 26 million, and with a higher growth rate.
Globally, the numbers look like this: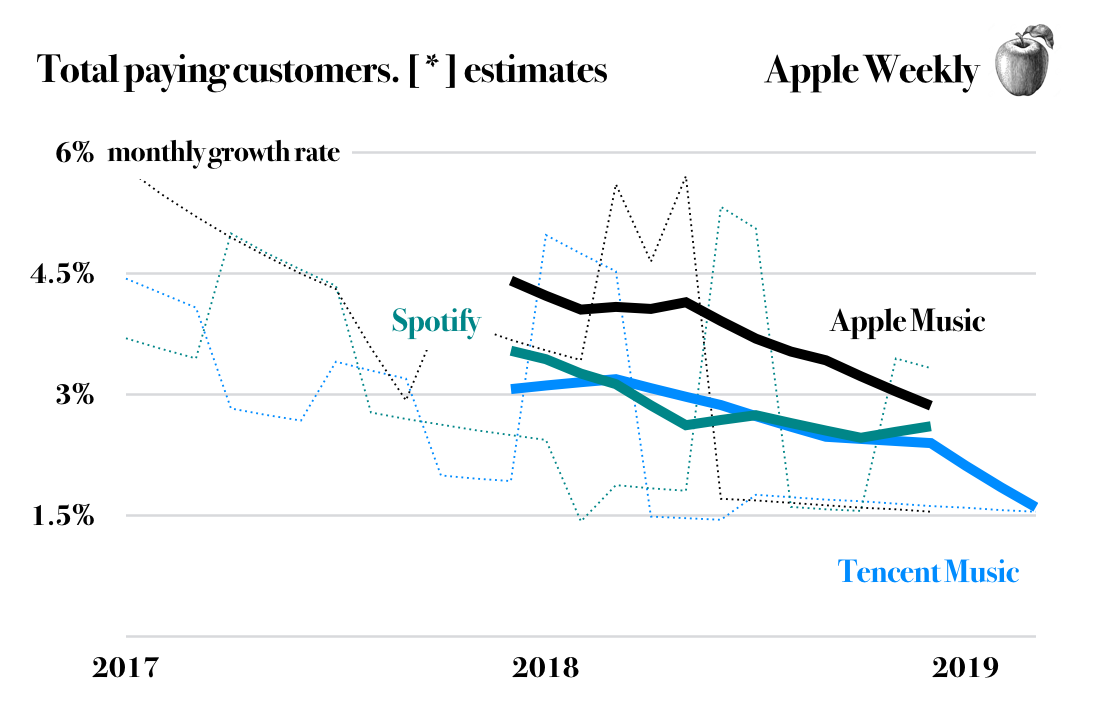 ---
Spotify makes gains in podcasting
Apple still leads worldwide, but the Swedish company is chipping away Apple's dominant position in podcasting. In many countries and regions, more people listen to podcasts in Spotify than in Apple's ecosystem.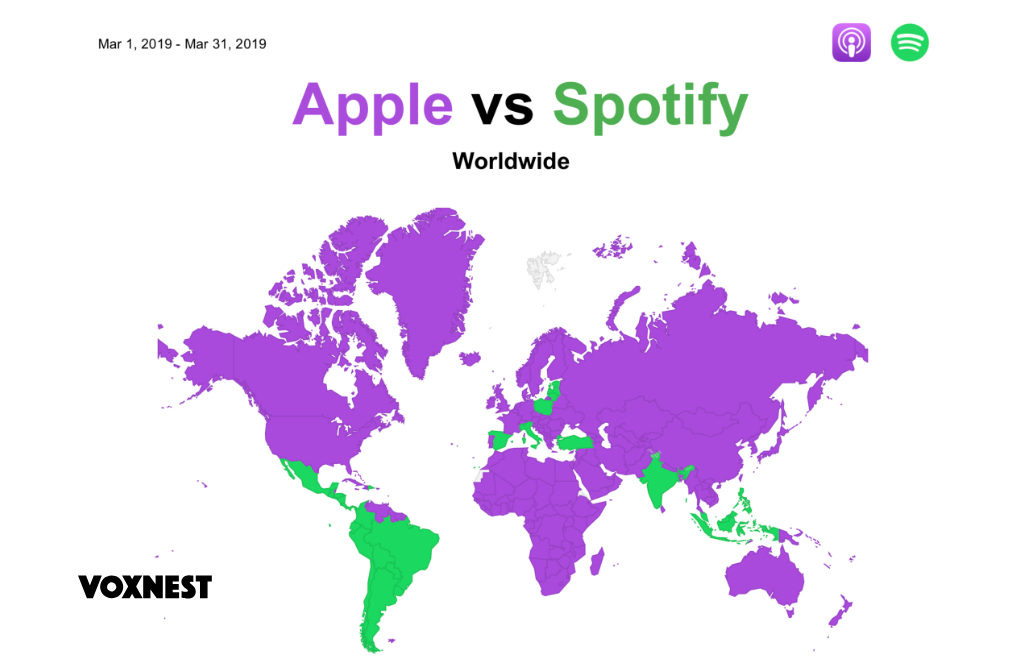 ---
Apple leads email readership
According to data from Litmus, Apple's iOS Mail app is responsible for 37% of all the emails read in the world. The Mac app adds another 8%.
Take the data with a grain of salt, as many companies set strong rules that prevent tracking. In business, web-based and Windows apps are paramount.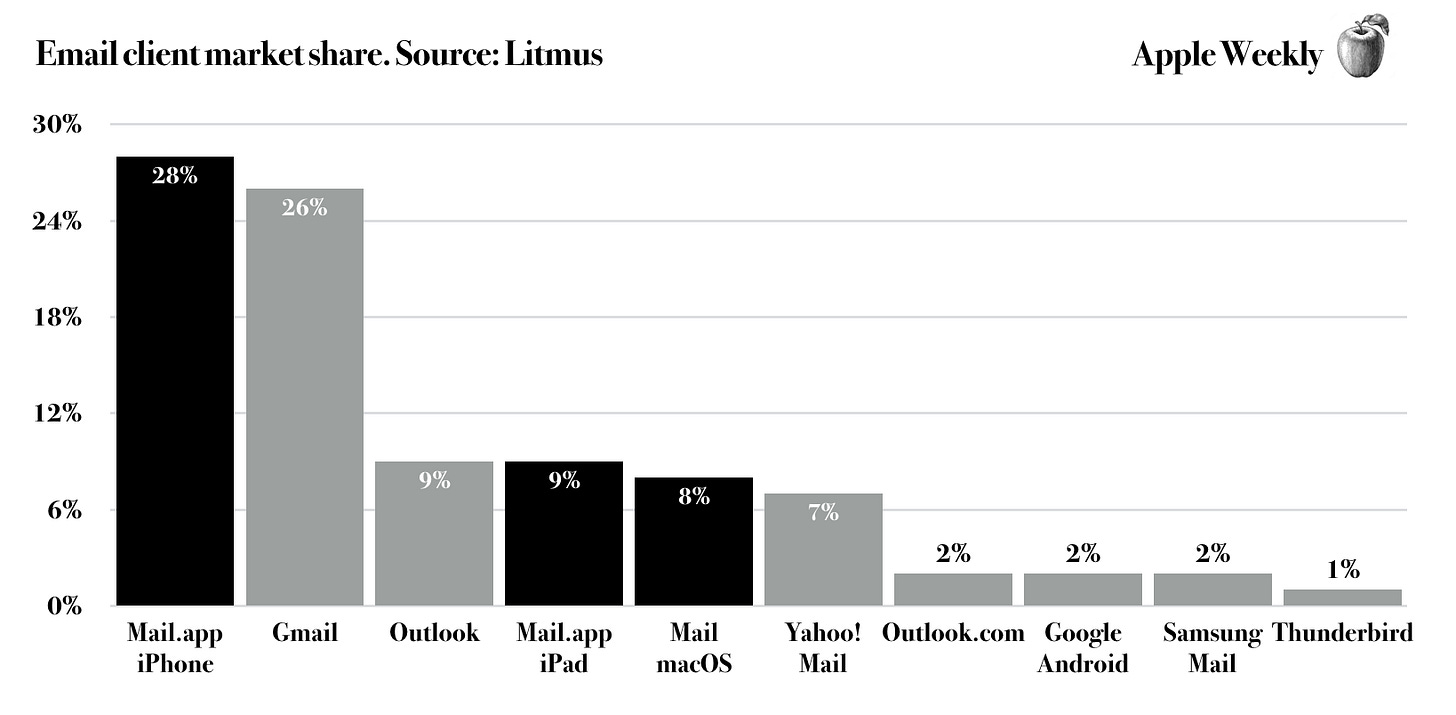 ---
U.S. teens love their iPhones (Chapter MCCXIII)
According to a new Piper Jaffray poll of 8,000 American high school students: 83% have an iPhone ("the highest percentage we have seen in our survey"), while only 9% use Android phones.
Sadly, the survey doesn't disclose models. The poll is skewed, obviously to richer kids. It's not totally unrealistic, but it's not a good representation of the general public.
---
Tim Cook acquires acquirer
Adrian Perica, head of M&A, will report directly to Tim Cook, but without a SVP title. Until now he was in the financial branch lead by CFO Luca Maestri. He was "instrumental" in the Didi Chuxing and Beats deals. — Will Apple ramp up the acquisitions?
---
2019-2020 iPhone rumour mill starts grinding
---
More from the orchard
Competitors
---
Thank you for reading Apple Weekly. Please consider forwarding this email to your contacts. — Alex