"It was a wholesale leadership takeover by the fashion industry"
The Apple Store concept must go back to their origins
Greetings! Coming right up, the most interesting stuff about Apple in the past week. — Please forward this email to anyone you think might find it interesting. If you're new, please subscribe (it's free)
---
In a must-read piece, Bloomberg's Mark Gurman says it "lost its luster", but I think the concept of Apple Store lost its meaning. Plenty of interesting quotes by former execs, including the one in the title of this issue.
A former Apple retail exec tonight: "It was a wholesale leadership takeover by fashion industry insiders and agency people who had no idea what they were doing with Apple. Most of the folks who knew better are long since gone. O'Brien has her work cut out for her."
I don't know if that's accurate, but it feels right. Deirdre O'Brien must take the Apple Stores back to what they were. Sure, Milan store looks fantastic (visited it a few months ago, it's truly stunning) and the renovated Carnegie Library in D.C. is so imposing and grand, it looks like an imperial ministry that fits late 19th century Vienna more than 21st century electronics store. They're great, but really, sometimes it's a bit of a mess to buy, repair or try a device.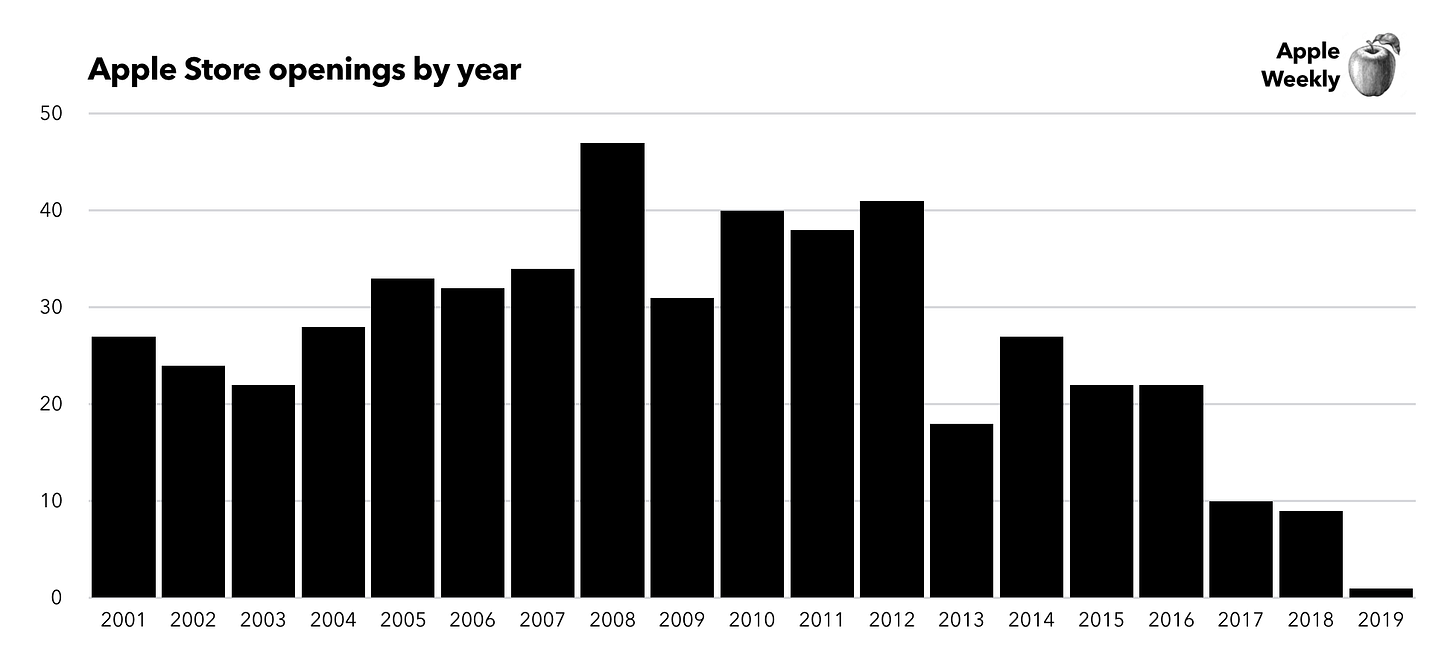 Look at this chart. In the last few years, Apple stopped opening new stores and focused on rebuilding o renovating existing spaces. Apple has about 400 or 500 million of customers more in 2019 that they did in 2014 when Angela Ahrendts took over Apple Retail. The company doesn't have a historical record of "installed base", so i'm going by Horace Dediu's estimates.
By 2010, when the iPad launched and the iPhone took off, Apple had 280 stores, or 1.4 per million of devices in their installed base. Now that figure is close to 0.36, four times fewer.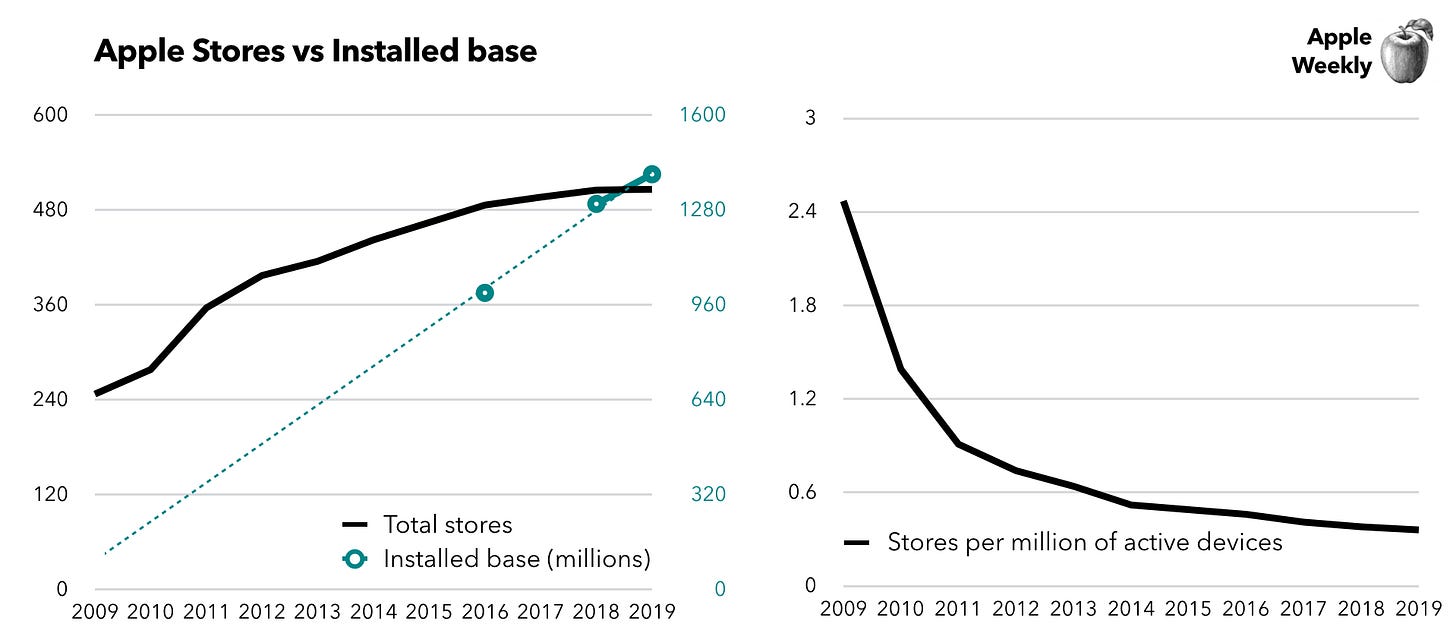 The chart above shows a clear deficit in new store openings compared to the gains in the total number of Apple customers that are servicing. Apple has been adding an average of ~125 million active devices per year in the last decade, which doesn't translate directly to total customers, but it feels like the best approximation.
Sure, online retail has took off since, but I'm sure iPhones and iPads and Apple Watches need more servicing per year than Macs, which were Apple's most important business when the company created the stores. On the positive side, maybe newer stores are bigger, or the number of employees manning each of them grew. I don't know.
A few more thoughts about the stores
Apple is opening their first store in India. A country with a population of 1,300 million where the company is mostly non existent today.

Israel is still waiting for one despite being Apple's 2nd most important engineering base.

The 3rd oldest Apple Store in the world closed last month because of East Texas judicial shenanigans.
---
More from the orchard
---
Thank you for reading Apple Weekly. Please consider forwarding this email to your contacts. — Alex