It was a big hack alright
One year after The Big Hack story, and we still don't know the truth / Apple's investment in Didi / iPhone 11 sales are very strong / Apple TV+ facing new challenges
Greetings! Coming right up, the most interesting stuff about Apple in the past week. — Please forward this email to anyone you think might find it interesting.
---
It's been one year after the BusinessWeek expose on compromised servers and we don't know much about what really happened to those tens of thousands of affected machines. Apple and the other named customers of Supermicro denied everything, but the article hasn't been amended.
Surely, I don't know enough about journalism best practices regarding conflicting stories. But it's puzzling to see how much Apple's version differs from the quoted anonymous ex-Apple executives that serve as sources to the story. I get that there're plenty of interests behind a story like this, but given how big this "The Big Hack" story was last year, it's odd that we haven't got any more information from BusinessWeek or other outlets.
Apple-related bloggers, such as John Gruber, refuse to let the story fade out of memory, but fall short of calling it a conspiracy after the main author was promoted recently. I think only time will tell.
---
Talking about the past! It's been 1,234 days since Apple invested one billion dollars in Didi Chuxing, the Chinese Uber that's both larger and more successful than Uber (making Uber probably "the American Didi", but hey). A few points:
It probably was a money losing investment, given that Didi valuation has dropped in the private markets since. — Not that any Apple executive is losing any sleep about it.

Was the move politically motivated to keep Beijing happier and avoid the triggering of autocratic shenanigans? We don't know, but probably.

Was it more than that? A way to Apple to peek into the transportation business while working on "Titan"? Again, we don't know, but probably.
---
Tim Cook says iPhone 11 sales are "very strong", after meeting with several European suppliers and having a ceremonial beer in the Oktoberfest in Munich. We'll have an idea about initial sales figures in a few weeks.
My take: I think there's a strong chance for Apple to exceed the iPhone XS/XR launch, both in units and in revenue:
---
Another hardware event for October? It still like the company could host another quick event for unreleased hardware such as the new Mac Pro, refreshed iPad Pro devices and the strongly rumored "Apple Tag" and new MacBook Pro.
---
Apple TV+ could switch to cinemas and European productions. The company wants to premiere Apple TV+ films in movie theaters weeks ahead of their streaming release, and it's looking to work with European companies to fill their "30%" rate of local content by the end of 2020.
My take: 30% now surely feels like a lot now to Apple. Wink wink.
---
Apple will have to pay tariffs on several, minor Mac Pro components imported from China, such as the wheels, cementing the position of non-China and non-American companies as source of those components.
I took a look at the total of Apple suppliers by country, nothing too surprising, except for Canada (0) and my own home country (0).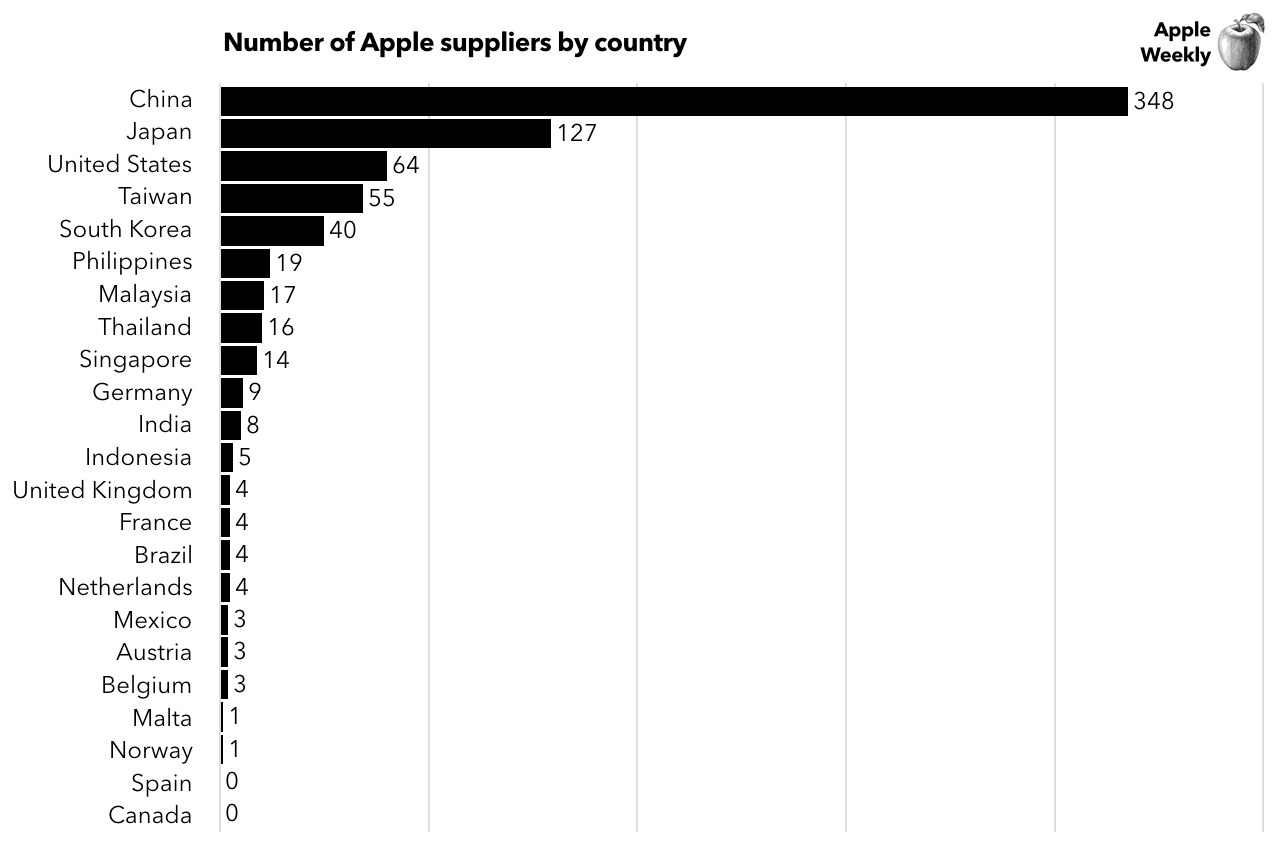 ---
More from the orchard
---
Thank you for reading Apple Weekly. Please consider forwarding this email to your contacts or hitting the like button below. — Alex