If they sell a lot of something, they want to tell everybody
A new era. Apple will stop detailing unit sales of the iPhone, iPad and Mac line ups
Apple released their quarterly financial results and unloaded a new controversy: the company will stop detailing unit sales of the iPhone, iPad and Mac line ups.
A good summary: The End of Hardware Transparency at Apple, by Philip Elmer-DeWitt, but the money quote is on this by Bloomberg's Mark Gurman: "That sparked concern Apple wants to avoid disclosing weak growth numbers. But the move also highlights the company's desire to become more of a services business."
"Usually, if they sell a lot of something, they want to tell everybody." — Steve Jobs
The numbers themselves are not bad at all. Quite good, but guidance for the holiday quarter, 2019's first, was weaker than everybody expected with revenues in the 89 to 93 million range, and thus, the stock fell 7%. Apple used to "miss" guidance in the past, but in the last couple of years, guidance has been spot on.
---
Apple is not doing that great in China (#1 smartphone market)After a frenzy stage with 26 store openings, "Apple has slammed the brakes on its retail expansion in China, launching only four new locations in the country since [2016]" (...) "The primary reason, according to former Apple employees, is that some stores have fallen short of expectations, especially in China's smaller cities.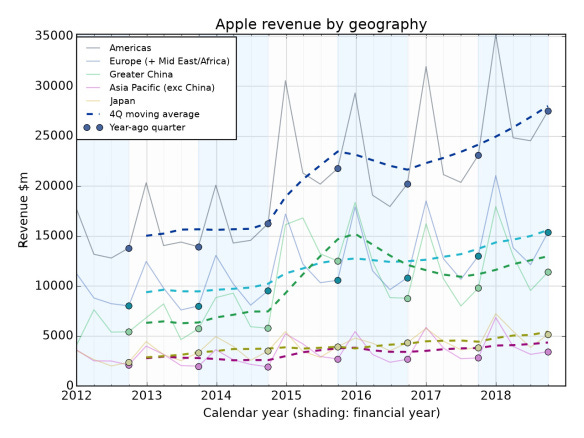 China's meteoric 4G rise and appetite for the iPhone 6 in 2015 faded and Europe (EMEA, actually) is now generating as much money for Apple as America was doing in 2014, while Japan had the strongest growth. The national companies are sending the iPhone to 2014-era levels of units (chart).
---
And doing really bad in India (#2 biggest market). "despite Cook being "bullish" on the nation for nearly a dozen quarters now, the company just can't seem to move the needle there" (...) "The per capita GDP in India is $1,940 (...) The starting price of iPhone XS, which is priced at $999 in the US, retails at $1,370 in India"
---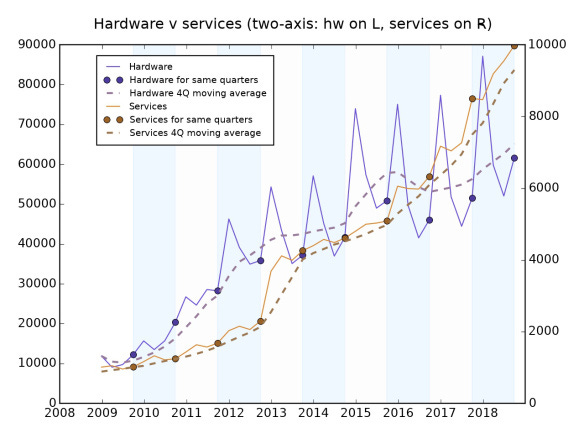 Services growing faster than hardware. This is a bit obvious, even with higher ASPs, hardware sales of Mac, iPad and iPhone have stayed flat for so long, the services are just growing at a great pace.
---
Apple Maps are catching up rapidly with Google Maps (in North California for now), adding fine detail and using machine learning for satellite imagery combined with data gathered by their cars at the street level.
---
TikTok tops Facebook in the US App Store with almost 4 million downloads in a month. Their makers, ByteDance, "recently overtook Uber as the most valuable startup in the world".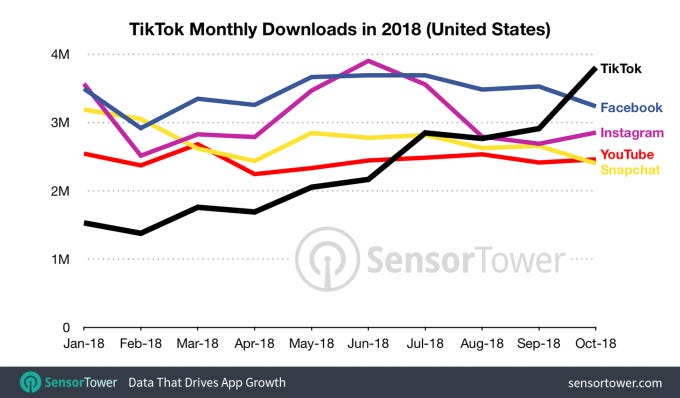 ---
iPad's ongoing life crisis. The hit product has sold over 400 million units and has more than 300 million in active use, which is a testament to their durability. Despite staying put in 40-45 million units sold per year for 3 years now, it's outperforming the tablet market.
---
Huawei sold more units than Apple for the second time in a row. The Chinese company can't enter the US market. Samsung is still #1 but losing volume rapidly to Chinese competitors in Asia, Americas and Europe, while holding good in India.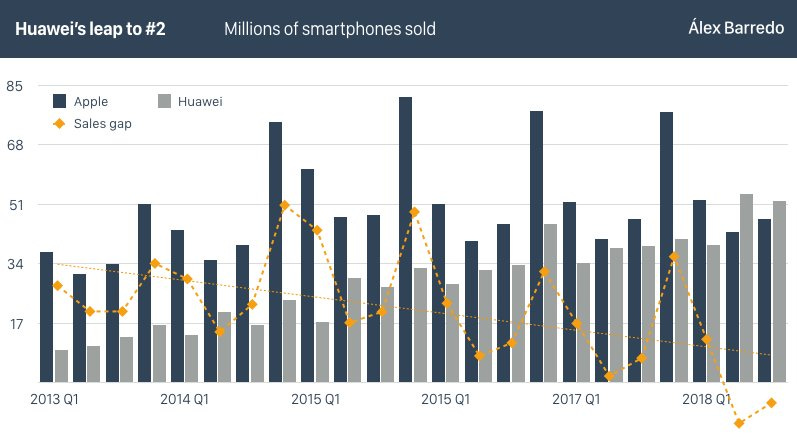 ---
New Macbook line up is a bit of a mess: "Imagine that you've got $1,300 and you'd like to buy a new Apple laptop. Which one do you choose? The $1,299 MacBook, the new $1,199 MacBook Air or the cheapest MacBook Pro, which also retails for $1,299"
---
Spotify is coming to the Apple Watch. The company is beta testing but with no public release on the horizon.
---
Thank your for reading Apple Weekly newsletter.