I hadn't seen better reviews for any other iPhone ever
Apple Arcade looks like a hit / Apple Card as an accelerant / Change of the Guard
Greetings! Coming right up, the most interesting stuff about Apple in the past week. — Please forward this email to anyone you think might find it interesting.
---
The new iPhone is blowing expectations away. I hadn't seen better reviews for any other iPhone ever. The cameras aren't perfect, but are a tremendous jump in quality from the X and the XS. The battery life alone is being heralded as enough reason to upgrade.
My take: I think this is the iPhone we should have gotten last year: having that big of a battery inside was an internal decision, and the lack of night-mode in the cameras made some die-hard Apple to lust over other phones.
Some details about the new phones:
---
About that battery life. There're two memes that refuse to die about the iPhone: (1) that the company plans for its devices to break after a certain amount of time, and (2) that Apple prefers thinner phones over battery life.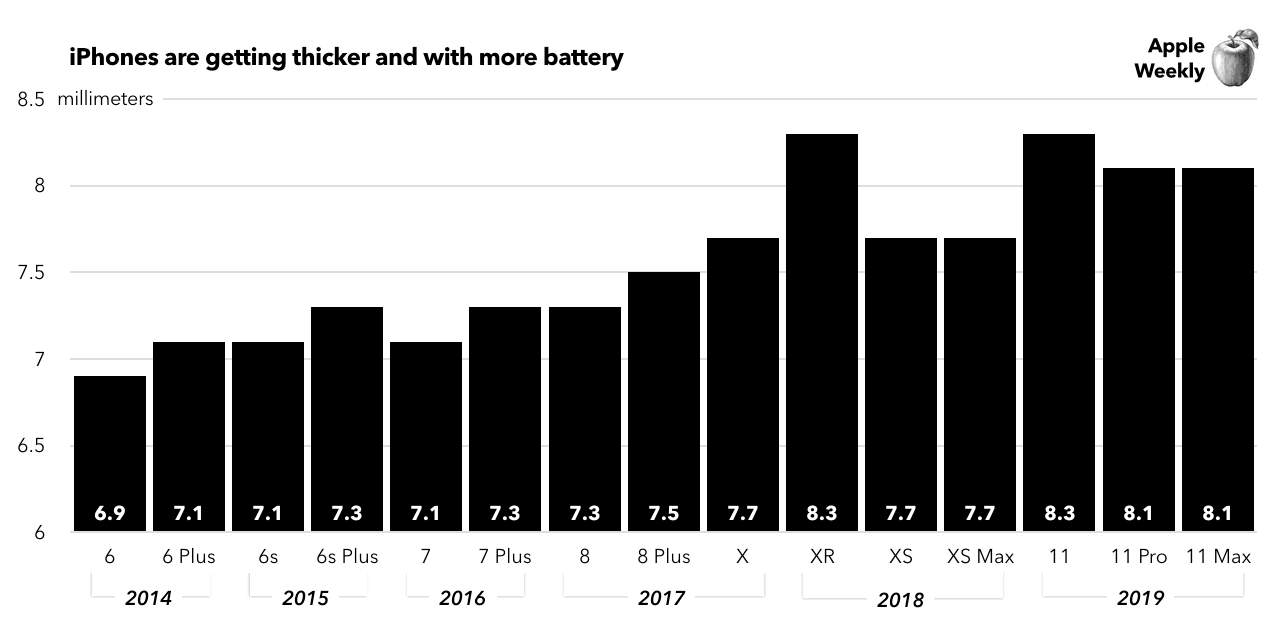 (1) is so stupid I won't address it here.

(2) was true for plenty of years, but it all changed around 2016-2017, when the iPhone 8/X hit the stores we saw a new direction: thicker phones with longer lasting batteries.
---
… and the Watch too. An ever so slight upgrade to a phone that ironically comes with one of the most awaited features of the device: always-on screen. Despite that, Apple says it has the same battery life, but that has been inconsistent for many users.
My take: I think the Series 5 will make most of the Series 0-Series 2 installed base get a new model, so we'll start seeing robust data into what's actually a "cycle" for the Apple Watch.
Few tidbits about the Series 5:
It has 32 GB of storage, great for music and podcasts, which is interesting because that's half of what Apple ships with the iPhone.

What's left for next models: cameras, ultra-wide band chips, glucose sensors, integrated sleep tracking, solar charging or body heat charging

Things that i'm sure will never happen: Apple Watch support for Android, which I hope I jinx by writing, and round screens.
---
A transcription of every word said by Apple execs at the event let me dig some very interesting, even if probably not that relevant, metrics. Here's a list of words and how many times they were mentioned:
secure+security: 1

private+privacy: 1

siri: 1

ecosystem: 1

subscription: 4

battery: 10

innovation+innovative: 14

apple tv: 18

apple arcade: 20

ipad: 49

watch: 52

camera: 67

iphone: 98
---
Apple Arcade looks like a big hit too. The $5 a month games service has quickly earned a nice reputation amongst early adopters. Here's a great list of games and their specs. App Annie says it will cultivate "retention and engagement", but I have some questions:
What's the revenue share of the model? Apple surely takes 30% of that $5, but how's the company slicing the other $3.5?

Will Apple pay more to the creators that make the best rated games? The ones that drive the most minutes played per month? The most installed?

The answer of this question will shape how mobile games are created, as creators will try to optimize for what drives the key metric.

In short, Apple Arcade, even if only somewhat successful, will be (quite literally) a game changer.
---
Another life saved by the Apple Watch "SOS" feature, each of these news stories must sell quite a lot of devices. I wonder when the "snap" will happen and not having a smartwatch will be seen as the questioned stance. It took a decade for mobile phones to normalize, and we're on year five of this.
---
Apple Card could be a huge accelerant for Apple Pay in the U.S.Always interesting to read Turley Muller's points. Cash back percentages could become a nice tool to increase Apple Pay share of purchases, even if Apple is the one giving the rebates.
---
The Changing of the Guard at Cupertino keeps going. Steve Dowling, head of Apple's PR department is leaving after 16 years. He picked the top job after his boss Katie Cotton left. Dowling wasn't even a VP IIRC, but adds to the churn after Ive and Ahrendts.
👉 Check out this excellent article about how Apple's high rank organization chart looks like now.
---
More from the orchard
Here's a list of hardware that Apple could yet announce before the end of the year.

"Find My" app is already paying off for some. Reddit user lost their iPad and it pinged its location when it contacted a close by unrelated iOS 13 device connected to the Internet.

Indian economy, pretty much like the rest of the world, is looking not-as-good as a couple of years ago. With unemployment "at a 45-year high", that could lessen Apple sales in the 2nd biggest smartphone market.

I'm guessing there must be some (even it at least weak) correlation between unemployment and iPhone sales. Anyone knows of any study?

MediaRedef's Matthew Ball says Apple TV+ and Disney+ aren't actually competing with each other.

The YouTube livestream of the latest Apple event drew almost 2 million live viewers, increasing the company impact in social media.

Apple reportedly wanted a $500m exclusivity deal with J.J Abrams, and he turned it away.

Apple has been granted tariff exemptions on 10 Mac Pro parts, despite clear opposition by the U.S. President.
---
Thank you for reading Apple Weekly. Please consider forwarding this email to your contacts or hitting the like button below. — Alex