Get in loser, we're going ARM
Apple co-founded ARM in the 90s and now it's leaving x86 for good, while developers and pro-consumers hold their breath.
Greetings! Coming right up, the most interesting stuff about Apple in the past week. — Please forward this email to anyone you think might find it interesting.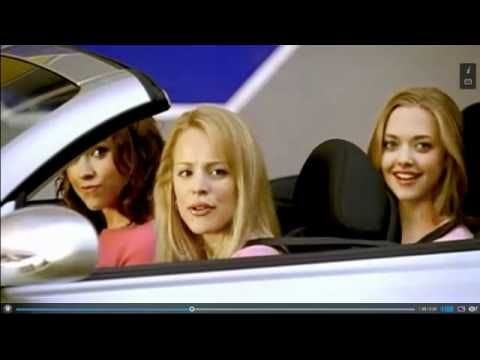 ---
🦾 With WWDC just one week away, ARM macOS is almost here. On June 22, Apple will show the first version of macOS that will fully work on ARM architecture. The company has been working on it for years, and giving baby steps both in hardware (T* chips) and software (Catalyst). Lots of answers here.
🔂 Bloomberg reports that Apple will announce the first (full-)ARM machine, with a chip that will be based on the next A14 line of chips. So it looks like we'll have an A14 for the iPhone, an A14X for the next iPad Pro, and A14-something for the Mac line.
🤔 Questions to be answered:
What co-processors will Apple add?

Will software compiled for x86 continue to work in those machines? (1) yes, (2) only from the Mac App Store (transpiled, I think), (3) nothing, only Catalyst apps.

If so, will it be through Rosetta-like emulation or virtualization?

Will ARM Macs continue to support Windows dual-boot? (1) no (2) yes, the x86 version, (3) yes, but only Windows on ARM.

Will Apple keep AMD GPUs in higher end computers or switch entirely?

What's the roadmap? My guess would be: MacBook > Mac Mini > iMac > "Pro" lineup
💻 That means macOS and iOS won't merge, at least for the time being. Lots of things will converge for developers, but "Macs will be Macs, and iPads will be iPads". Let's see how it pans out for the further development of the iPad as an standalone machine.
📅 Here's the complete lineup of the event. There are lots of changes besides the 'remote' thing. "All new" developer forums open for developers to talk with Apple employees, and 1-on-1 sessions via FaceTime.
---
Apple Watch
⌚ Here's the updated Apple Watch sales chart. It averages several reports, and this past two quarters the disparities between reports have grown a bit.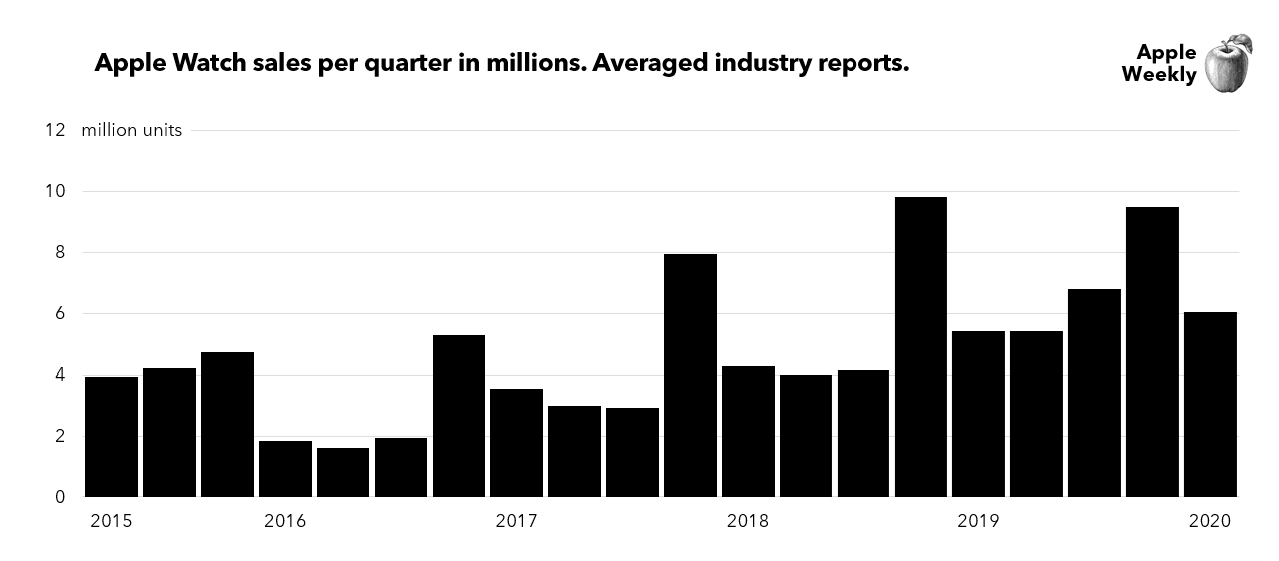 ---
Coronavirus
🦠 American states reject Apple-Google Covid API, while Europe slowly embraces it. Only three states (Alabama, South Carolina, and North Dakota) have committed to use Apple and Google's ambitious API. -- In Europe: Germany, Estonia, Latvia, Switzerland are onboard, and probably more will do so soon.
---
More hardware
🧐 Second WWDC without Jony Ive. We're entering an era of Apple where any product that he ever oversaw or designed must be coming out the door. Probably for two more years.
💻 Apple will pay you for your old Mac. No details yet, but the new trade-in program will start next week in Canadian and American stores.
🤖 And also for your old Android phones. Again, only in the U.S., but the company will pony up up to $340 for a Galaxy Note 10, yet only $130 for a Pixel 3 XL.
📱 Apple still doesn't have a Pixel problem. It's been 4 years since Google released the beloved Pixel phone line, but it still not selling at all. Only 7.2 million Pixels sold in 2019, a marked improvement, but not enough to get into the top 10.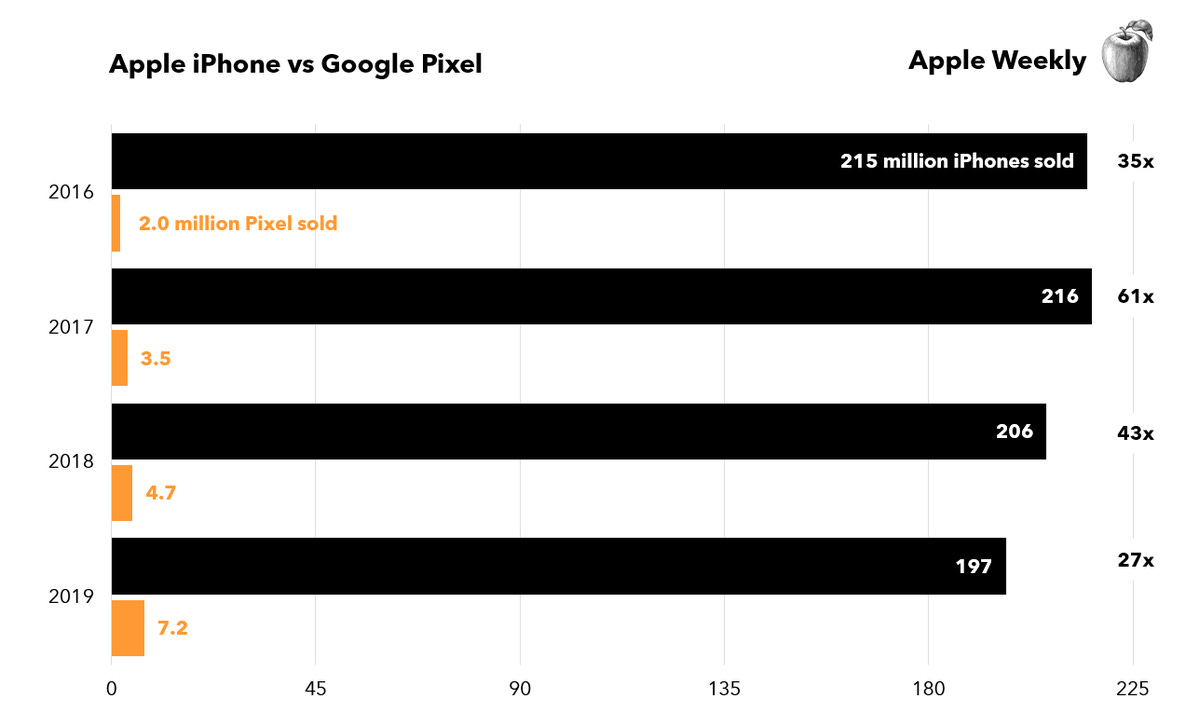 ---
😥 Jim Keller resigned from Intel for personal reasons. Probably family related matter. He isn't going back to Apple, where he led the development of the giant leap that were the A4 and A5 chips, before eventually going to AMD and Tesla. Keller is one of the more accomplished individuals in the field.
🤔 Commercial Hackintosh again. A company called OpenCore Computer, started offering Windows/macOS dual boot machines this week for $2,200. It's doomed to be struck down in the courts.
---
China
📉 Pension Fund of Rhode Island will sue Apple over demand comments. Courts in California said Apple must face a lawsuit "claiming it fraudulently concealed falling demand for iPhones, especially in China". I am not a lawyer, obviously, but tt's an interesting timeline:
November 1st, 2018: Tim Cook says on the analyst call that the new phones had a "really great start", and that while some emerging markets weren't that great "I would not put China in that category".

"Mid November" 2018 Apple tells manufacturers and providers that they don't need as many iPhones.

January 2nd, 2019: Apple reduces forecast by $9 billion.

January 3rd, 2019: Apple stock drops 10% ($74b market cap)

Since then, the stock has more than doubled.
---
🎧 Podcasts apps banned in China. Beijing ordered Apple to delete Pocket Casts and Castro, after both apps refused to delete or stop promoting some shows. I'm guessing Apple must have deleted the shows in their own app.
🙈 AppleCensorship.com is a great guide that tracks every app, search or function that the company removes in China, the U.S. or elsewhere.
---
Software
🤳 Snapchat launches its own app store in July, to distribute "Snap Minis", a set of small apps made by 3rd-party developers that will perform or offer special functions like buying tickets, school work, payments and such.
👉 If Snap Minis reminds you of WeChat Mini-Programs, you're right. I don't grasp why Apple allows this kind of "app store inside app store", but my guess is that they're browser based and free.
🌐 Google will go "full-Safari" and hid the complete URLs in the address bar. It's not a big issue, but it has a lot of UX issues. This is kind of a vindication to the Safari team, but I still don't like it.
📚 iTunes U will be gone at the end of 2021 as the company switches all their educational stuff to the Schoolwork and Classroom apps and services. Maybe a more cohesive service in the future?
---
Apple Car
🚕 It's been three years since Tim Cook openly talked about "autonomous systems". I don't know if Project Titan is still alive, or it morphed into something different. But it was a big thing back in 2017 to get Tim to say it out loud: "probably one of the most difficult AI projects to work on."
🚗 Eddy Cue is interested in Nikola, the so-hot-right now car company.
---
Apple TV
🇬🇧 4% of Britons use Apple TV+ according to the latest UK-wide survey from Omdia, just a tad more than YouTube Premium. That would translate to just over one million people.
🌊 Greyhound will debut next month in Apple TV+. The World War 2 film starring Tom Hanks was meant for cinemas, but Sony and Apple reached a deal to premiere it in the Apple TV+ (trailer) service while the pandemic clears out.
🏀 Apple has hired Amazon exec Jim DeLorenzo to head up sports for its Apple TV unit.
👨‍👧‍👦 Dads will premiere this week. A Brice Dallas Howard documentary about celebrity dads and their day to day lives. Here's the trailer.
---
Thank you for reading Apple Weekly. Please consider forwarding this email to your contacts or hitting the like button below. — Alex