Égalité, Sécurité, Réalité
are Apple Glasses even real?
Greetings! Coming right up, the most interesting stuff about Apple in the past week. — Please forward this email to anyone you think might find it interesting.
---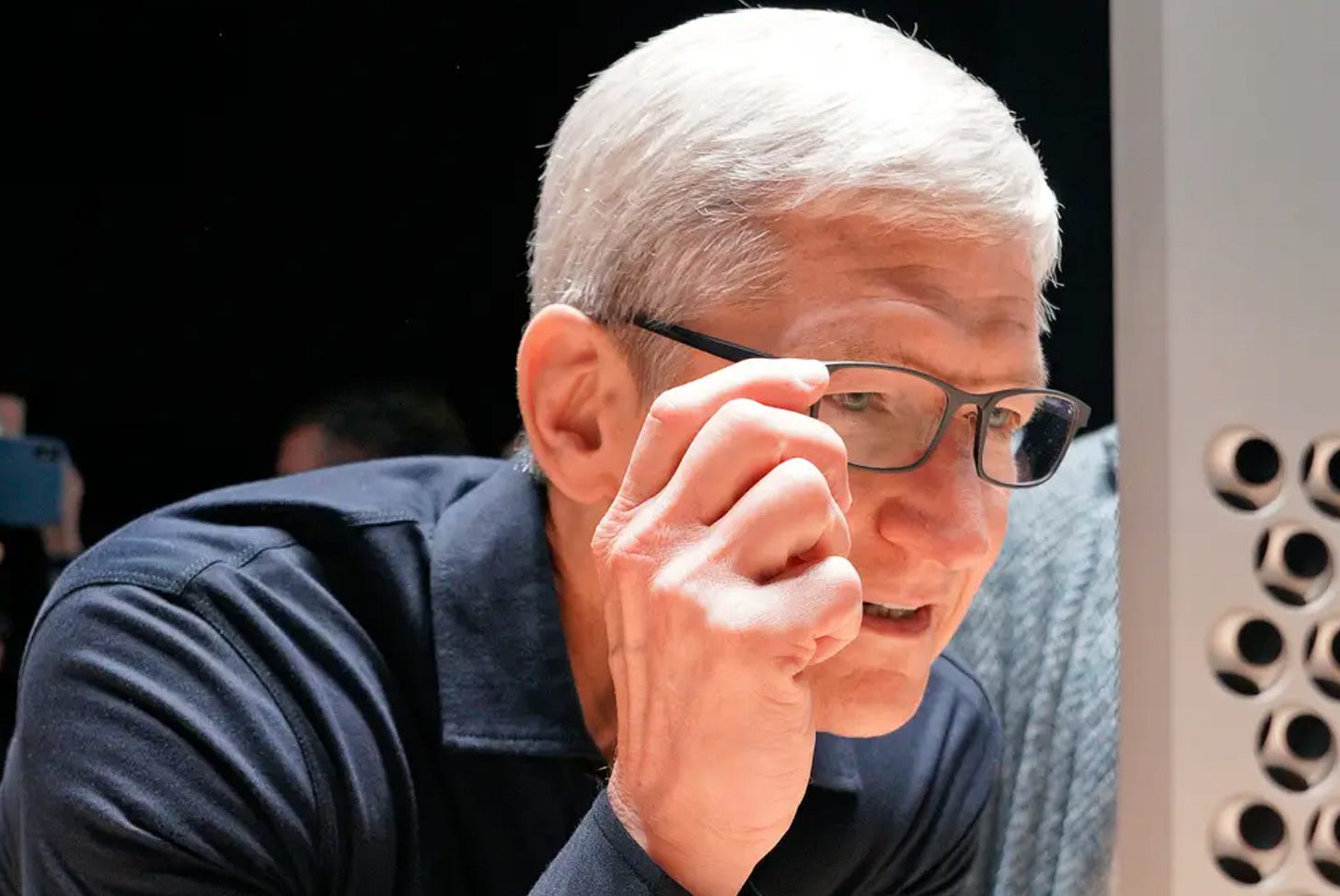 Tim Cook not using Apple Glasses.
Alternate Reality
💵 Apple bought NextVR for $100 million. The south California company was struggling to a degree after failing to get more funding, but holds plenty of patents, knowledgeable engineers. — Is it fair to label the deal an acqui-hire?
🤓 Does this mean Apple is getting into virtual reality? If by VR we mean "Oculus-like" in functions probably not. But we know Apple is investing really hard into Augmented Reality, and the edges between the two so fuzzy some like to talk about "Mixed" (or "Augmented") Reality.
🚿 Shower thoughts: Apple really likes to buy companies named Next! and, if Google Glass, HTC, Magic Leap or Microsoft HoloLens have shown is that this is very hard and it takes time and billions. Apple has both.
👓 Apple started talking internally about at least two devices. Back in October 2019. We don't know much about what Mike Rockwell and his team is doing. It was reported that company had 2020 in mind for a first release, but the goals were delayed.
🗓 So, when? The first reporting dates back to 2016. Even Ming Chi Kuo and Mark Gurman, both with exceptional track-records, talked about a potential release in 2019, early 2020, late 2020, and now maybe 2023. — Even Snapchat CEO Evan Spiegel said last year that smart glasses are a decade away.
---
Security
🔐 The FBI unlocked a terrorist iPhone without Apple. "We received effectively no help from Apple" said the FBI Director. It's the Pensacola case, not San Bernardino. — It's not clear what software did the FBI use to break the system's security and encryption, but we may have a clue:
💸 Zerodium claims they don't want any more iOS exploits.The security company pays handsomely to any researcher able to break into an iPhone or iPad. Or used to, because that's now halted due to a recent increase in the findings. — They later sell the fixes and consultancy to governments.
🔓 "iOS Security is fucked", according to Chaouki Bekrar, Zerodium founder, that explained "there are a few persistence exploits (0days) working with all iPhones/iPads". — Without more details, it's hard to to say, but one those could explain how the FBI broke into that iPhone.
🔏 A few months ago, Apple sued security company Corellium, which provides tools for developers and researchers to put a copy of their iPhone software in a virtual container. — Apple tried to buy Corellium and when refused, sued arguing that the company commercializes an illegal "replication of the copyrighted operating system and applications that run on [Apple's devices]". — Many iOS exploits are probably found this way.
---
Hardware
🔋 Judge ready to approve up to $500 million settlement over iPhone batteries. Apple agreed to settle the class-action in March and pay $25 per iPhone. Now the judge has provided preliminary approval, with a final decision by the end of the year.
⌨️ The new Magic Keyboard doesn't feel so magical to some users. One third of 9to5Mac readers say that they're experiencing battery drain from the iPad Pro when the device is idling and the new keyboard attached. Another third say no, and the rest isn't sure. — Some reports that the issue disappeared with a replacement under warranty.
---
Television
👽 Ridley Scott has inked a first-look multi-year TV deal with Apple.
📺 Sofia Coppola will make a limited series for Apple with the adaptation of "The Custom of the Country" novel. — It's her second work for the company after "On the Rocks", a film that will stream exclusively on Apple TV+.
🤳 Mythic Quest will have a special episode shot entirely on iPhones. — Reminds me of Modern Family's 2015 "FaceTime episode".
---
More from the Orchard
🗓 We're one month away from WWDC (June 22).
🎧 Greg Joswiak, Apple's vice president of product marketing, does his job and claims AirPods are pretty good and selling like hot cakes. Still no official figures.
💳 Apple Pay users doubled in the last two years in Australia to 6,5% according to a survey. — It's around 9% in the U.S.
🎮 Ubisoft sued Apple after refusing to remove from the App Store a videogame made by an Alibaba-subsidiary that's a "near carbon copy" of one of their most popular recent works, Rainbow Six: Siege.
🏴󠁧󠁢󠁥󠁮󠁧󠁿 Apple starts hiring engineers in London to work in the Wallet and Apple Pay services.