Being a multinational isn't easy
Apple wins with Ireland / New European regulations / Mexico wants Apple's supply factories / China keeps pressing / iMessage winner if WeChat gets the axe
Welcome back to Apple Weekly. This past few days the company has been everywhere, with literally high-impact news coming from all over the world. I guess multinationals are like that.
---
Coronavirus
😷 The company is sticking to remote work. If you don't live under a rock, you'll know that the U.S. and California aren't doing that well fighting the novel coronavirus pandemic.
👉 Most of Apple Park employees will stay in their homes for a few more months.
👉 Apple campus in Austin will keep building their own 192 room hotel for employees.
👉 Apple Stores closed in several American states. The employees will keep the same conditions as they had in the previous closure. Here's an interesting way to look at it: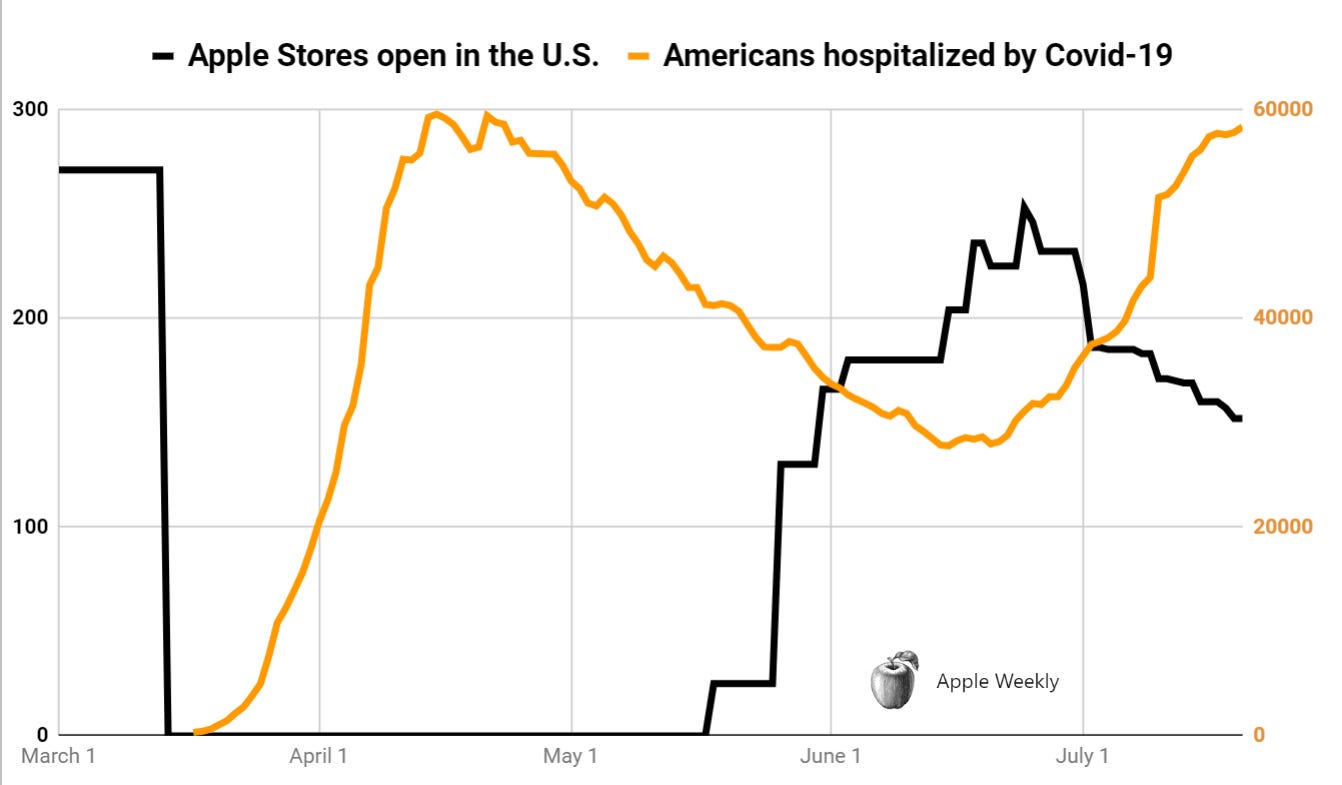 ---
Europe
💶 European courts decided that Ireland was right. Apple won't have to pay the Republic €13,000 million it owed in back taxes from the past few decades, as argued by the European Commission.
👉 It probably won't be the end of the road for this clash, as Brussels could appeal once more.
👉 The kerfuffle, despite de big number attached, was really simple: did Ireland broke EU laws by having a signing a special deal with the company in 1991 and subsequently? It had an effective tax rate of 0.005% in 2014. Way below Ireland's 12.5% corporate taxes (half of that, 6.25% for profits coming from intellectual properties and patented stuff)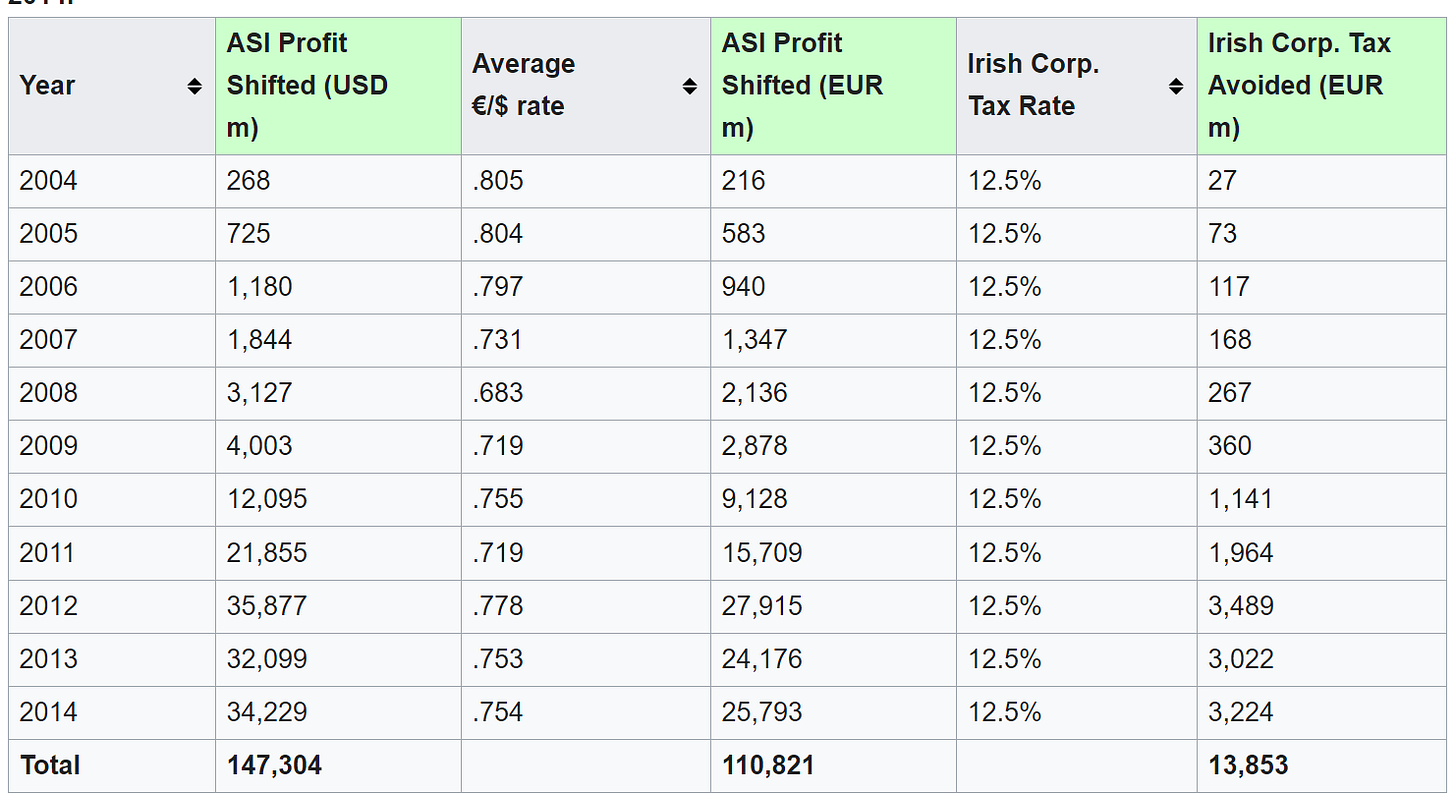 👉 The company's Irish subdivisions siphon all the non-U.S. revenue, including China. The courts argue that Ireland it's in fact a sovereign country and can do this kind of deals, deeming it not to be state-aid (a big No-No in Europe). — Remember: Ireland's tax system has a lot of issues, but it's not a tax haven.
---
🛍️ App Store will have a base regulation in the European block. It gives developers several protections from Apple, Google, Valve, Amazon, etc. but the regulation itself is toothless, as most of the points were already established.
👉 If anything, the new rules could hurt Google Play more than the App Store. I like the ranking transparency, arbitrage and a harder line on differentiated treatment for big and small publishers.
---
💫 Telegram's Pavel Durov joined the chorus arguing that Apple and Google have a monopoly on app distribution that should be tackled. He's right, of course, but it's a very difficult conversation. I really like Telegram, but I also think Durov is mostly an self-interested asshole.
---
🧰 Independent repair shops in Europe and Canada can now apply for the certification program that will keep the warranty on a small number of repairs (screens and batteries), in exchange for using only genuine parts.
---
China
🗺️ Apple never approved the Hong Kong protests map app. It was back in Google Play a few days after being banned by both companies, but Apple has yet to put it back after months of, ironically, protests by their developers.
👉 By the way, keep an eye on Tim Cook's board in Tsinghua University. He's been a board member since 2013 (simpler times) and the Board Chairman since October. It's mostly an honorific position without any real duties, but it's precisely that symbolic nature that makes it interesting these days.
---
🎮 The Chinese App Store keeps shrinking. Apple has removed over 8.000 games from sale in the past couple of weeks that didn't have the right certification (think a ISBN for each game).
👉 China approves each videogame title, and during the last few years some made it to the App Store through loopholes. Now that's been corrected. The timing is interesting.
---
💬 Chinese netizens ready for a U.S. banned WeChat. Besides TikTok, one of the most likely victims of the tit-for-tat could be WeChat. If it gets banned in China, I only can see iMessage as the winner of the situation.
👉 WhatsApp is heavily restricted in China. iMessage is the only end-to-end encrypted option legally available in the mainland. I love chaos and thinking about ramifications.
---
🏪 The new Beijing Sanlitun store looks spectacular after the renovations, but I don't think Apple could ever top Milan's Piazza Liberty store design.
---
Mexico
🏭 Mexico wants some of that juicy Apple factories. Deep into this Reuters piece about the Mexican govt. plans to snatch some Asian manufacturing, we read that the Mexican Economy Minister Graciela Márquez says she "plans to speak with Apple and other U.S. firms about relocating their supply chain to Mexico."
👉 "Designed in California, assembled in Baja California" iPhones probably won't ever happen, but it could be interesting to see which parts make sense to relocate to Mexico.
👉 It could be problematic for Apple's lobbyists in D.C. to bring some production to North America, only to stay in México instead of, say, Texas.
---
United States
⚖️ "Anti Big Tech" lobbyist has ties to Apple and Amazon. Fionna Scott Morton, a Yale economist and antitrust hawk, has been arguing against Google and Facebook monopolies without disclosing he has been consulting for Amazon and Apple for years.
---
👔 Why did Tim Cook agree to this new super tone-deaf campaign from the White House? A Zoom-video call with Ivanka Trump and others to "urge Americans" to "find something new". You should Read John Gruber's opinion.
---
More from the Orchard
⚙️ SoftBank is exploring the sale or IPO of Arm Holdings. This could be very significant development for Apple (I can see the company investing in it again). But for the moment is just a rumour.
🔮 Apple Silicon transition weirdness: internal documentation suggests third-party GPU support is in danger for macOS.
🔌 Apple Silicon transition greatness: it will keep Thunderbolt support.
📱 Unconfirmed reports from supply chain experts at DSCC claim Samsung got a $950 million check from Apple after the Californians lowered the number of screens they promised to buy for the next iPhones.
🌐 Super interesting interview with the Safari developer team about the browser wars and future features.
🎥 Apple will spend a record $100 million to buy the world rights for Will Smith new movie.
🔊 Apple recreated all the system sounds in Big Sur, the new macOS version.
🎧 Back in 2002, getting an iPod for Christmas was still a perplexing situation.
---
Thank you for reading Apple Weekly. Please consider forwarding this email to your contacts or hitting the like button below. — Alex