Back to normal
Some employees back to the office / Some "Geniuses" back to the Stores / Big (hit) in Japan / What's in for Apple TV+ in 2021 / Coronavirus conspiracies
Greetings! Coming right up, the most interesting stuff about Apple in the past week. — Please forward this email to anyone you think might find it interesting.
---
Back to normal
🏢 Apple started notifying some employees to go back to the offices. A fluid and complex plan to accommodate those cases where working from home doesn't cut it. The details are complicated, as it includes a convoluted timetable of several stages for each of their main offices.
It underscores Apple's longtime focus on in-person meetings and hands-on product development, and the company's reliance on hardware as its central business.
Understandably:
The first swath of employees returning to offices will likely focus on hardware development
🏡 Most of Apple workers in Apple Park could already work from home several days a month. Apple has a somewhat relaxed policy in that regard, but extended blocks of time away from the office are more complicated.
---
🛍 Apple Store doors started to reopen across the world. Also in a controlled manner and as national laws dictate. About 20% of all the locations as of today, mainly in Asia and Oceania. Here is an excellent tracker of the overall status.
🈺 "Open" doesn't mean "open". It will take time for the stores to get back to what they were. Apple is promoting online purchasing and removed Today at Apple segments. For the time being, Apple Stores will be mainly for customer service and support.
😖 In China foot traffic was down. Customers are wary of crowded places, and more so of stores where everybody can touch everything. Even with all health measures, it will take time.
🌡 Temperature checks for the German customers and employees. Stores in Germany opened again on May 11 with several health measures. But shortly after the German data protection office inquired if the those checks violated the applicable privacy rules. — Looks like standard procedure.
---
Apple TV
👍 'Defending Jacob' looks like a hit. The series "is shaping up as a breakout" with high viewing figures and viewer retention according to a report, only behind The Morning Show. I'd say it's also the most bingeable.
📺 Apple is looking for content with "aspirational quality".Producer Joel Eisenberg wrote an interesting article detailing what everybody wants for the 2021 season. Apple doesn't have official mandates yet, but in Eisenberg's summary: it should "appeal to the entire family", but "nothing over the top like Game of Thrones or Big Mouth".
---
Japan
📊 Back in October, new local laws forced operators to keep smartphone subsidies separated, to allow consumers to make a more informed decision. Europe did something similar a few years ago. It was speculated that Apple could feel the hit with their more expensive iPhones, now we have the data:
The iPhone had a "rare" 10% drop in Japan in the last quarter of 2019.

But so did everyone else, so it turns out it increased share to 53.3% of all smartphones sold in 2019. Around 15 million total iPhones.
---
🇯🇵 Japan is the only country that Apple reports as separate. China goes as Greater China, and the U.S. is paired as Americas, for instance. So we can dig up some overall data: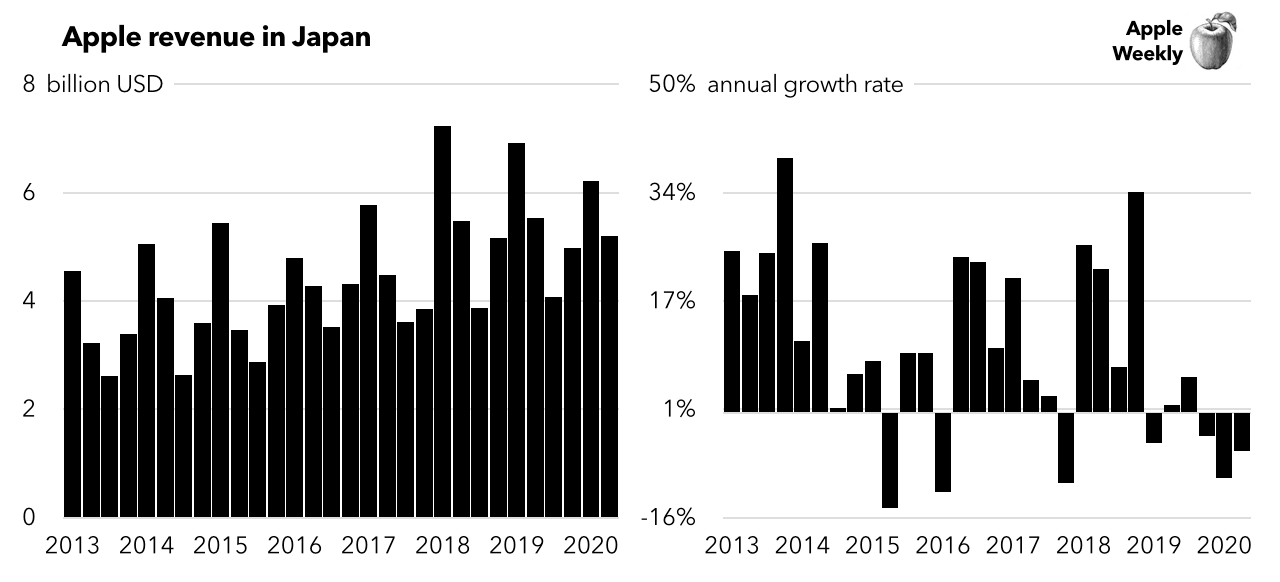 We'll talk about India and Europe next week.
---
Coronavirus conspiracies
🤡 Apple phones don't have 5G yet, so the company has been exempt from the nutjobs' attacks. But tech companies are clamping down on its most prominent conspiracy leaders like David "5G-causes-coronavirus" Icke, removing fake documentaries and videos from YouTube, Facebook and Twitter.
🤭 Spotify even went as far as removing an episode with Icke from the also controversial "London Real" podcast. Apple Podcasts still shows it a month later.
---
AirPods
🎧 "AirPods Studio" coming in a few months. People keep finding details about the upcoming over-ear headphones. It looks like they'll be able to detect your right or left ear, adjusting channels accordingly, and also have neck detection to stop the music when you take them off.
🤕 Turns out you can hit your head to skip a song. Double tap your forehead and the AirPods in your ears will do the trick.
---
Mac
💻 Apple MacBooks to have an exclusive new Intel chip. The most powerful chip (28W instead of 25W or 15W) of the new Intel 10th generation for laptops (Ice Lake) has been removed from Intel databases, "making it appear that Intel has reserved the 28W parts for Apple".
🎧 Logic Pro X got a huge update adding Live Loops, a beat sequencer, and a totally new sampling tool. Apple let some musicians use it before release and they like it.
---
Apps
📦 Mini-programs in Tencent WeChathave topped 400 million daily active users for the first time. It's the only app store inside that Apple allows, and a quick way for (mainly) Chinese devs to quickly deploy to all smartphones at once.
---
🎮 SensorTower reported a minor decrease in the amount of new games published in the App Store in 2020, after years of massive drops. Games are the main driving factor of revenue, but Apple put more strict conditions for publishers. I'll talk with a few developers and ASO experts to see what's what.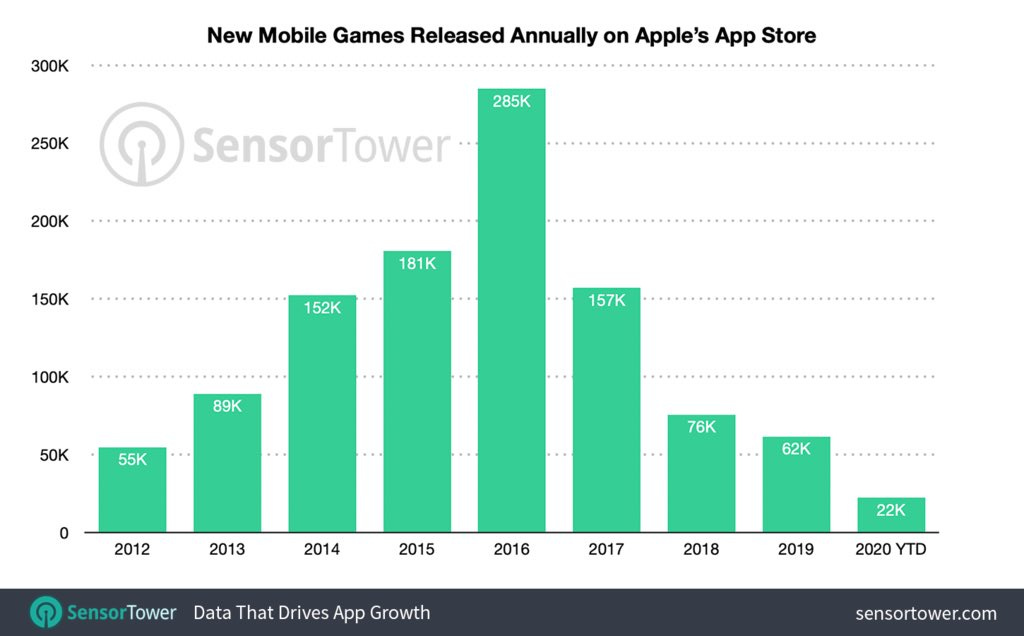 ---
👨🏻‍🏫 Unsurprisingly, worldwide quarantine is keeping education and business apps in the top of the charts for downloads, and entertainment in the top for revenue.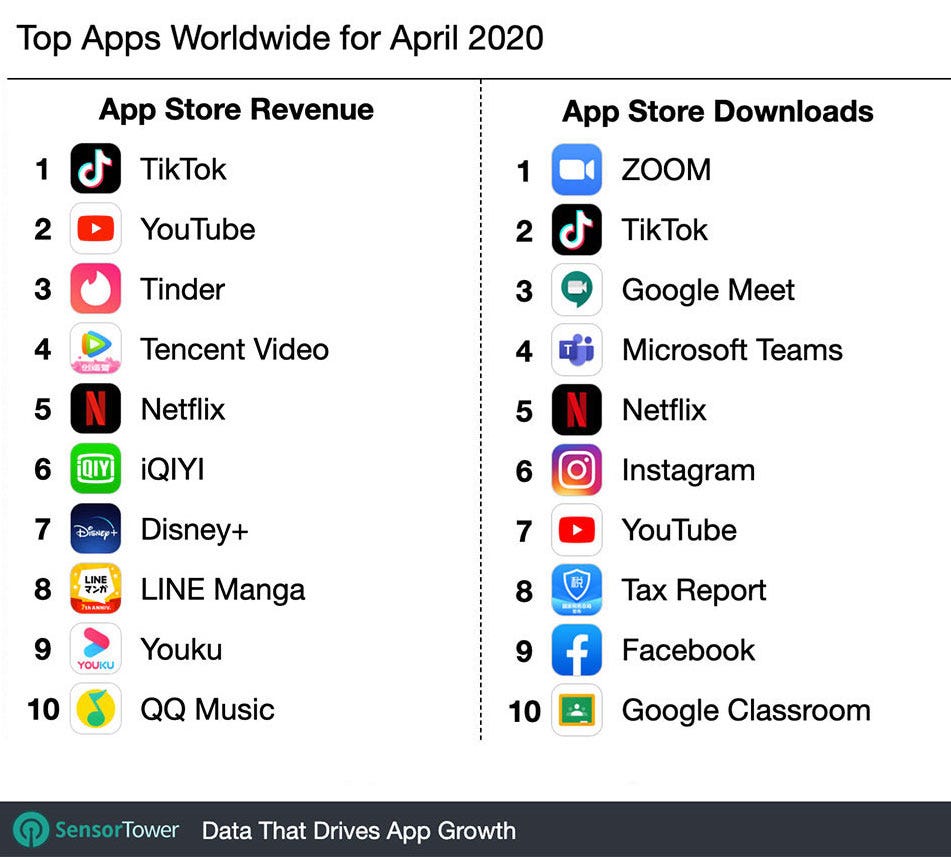 ---
Thank you for reading Apple Weekly. Please consider forwarding this email to your contacts or hitting the like button below. — Alex