Apple's new era begins
Active units are the new shipments.
This week Apple entered the new era where units are not reported and all we're getting now are revenue figures and some active units figures. Said figures are good, very good.
There're 900 million iPhones in use. A year ago, that number was 825 million. Which translates to 206,000 new iPhones on the market every day.

The active base of all Apple products is 1,400 million. That's 100 million more than a year ago.
Now, onto the sales figures. Apple doesn't disclose them anymore so we're going to rely on external sources. For 2018 Q4 we have four main reports, with almost a 6 million divergence (around 8-9%):
IDC: 68.4 million

Canalys: 71.7 million

Counterpoint Research: 65.9 million

Strategy Analytics: 65.9 million
Rounding up, this would mean Apple has sold around 208 million iPhones in 2018. A figure slightly lower than 2017 where it sold 215 million.
---
An interesting way to look at this is: Apple sold 208 million iPhones last year but the installation base only grew by 75 million. This leaves 133 million older iPhones that went to drawers, recycling, got broken, and so on.
Since 2007, Apple has already sold over 1,536 million iPhones. That's a crazy figure. But with 900 million active, means that more than 630 million iPhones are on smartphone heaven. RIP 42% of all iPhones ever made.
---
For the next quarter, investors are kinda optimist. Having recovered from the low expectations for the current one, the always weaker Q2 will be a smooth ride.
---
Apple enters the 'services company' stage at last. It's been touted for years, but Apple Services is now a $40 billion annual machine. This doesn't take into account what Apple can and probably will do in 2019 and 2020:
---
App Store growth is slowing. New official figures from Apple say developers have earned $120 billion ("more than a quarter of that in the past year alone"). Bloomberg's Shira Ovide did the math and the rate is now 28%, down from 47% in 2016. Still, a tremendous achievement at this size.
---
Operating System loyalty hits all time high in the US according to CIRP poll data, 91% of iPhone customers in North America bought another iPhone in 2018. In 2017 the figure was roughly 85%.
Android figures are higher, and the Android base in the US keeps receding. This suggests a smaller pool of future switchers from Android in the country, while still very large worldwide.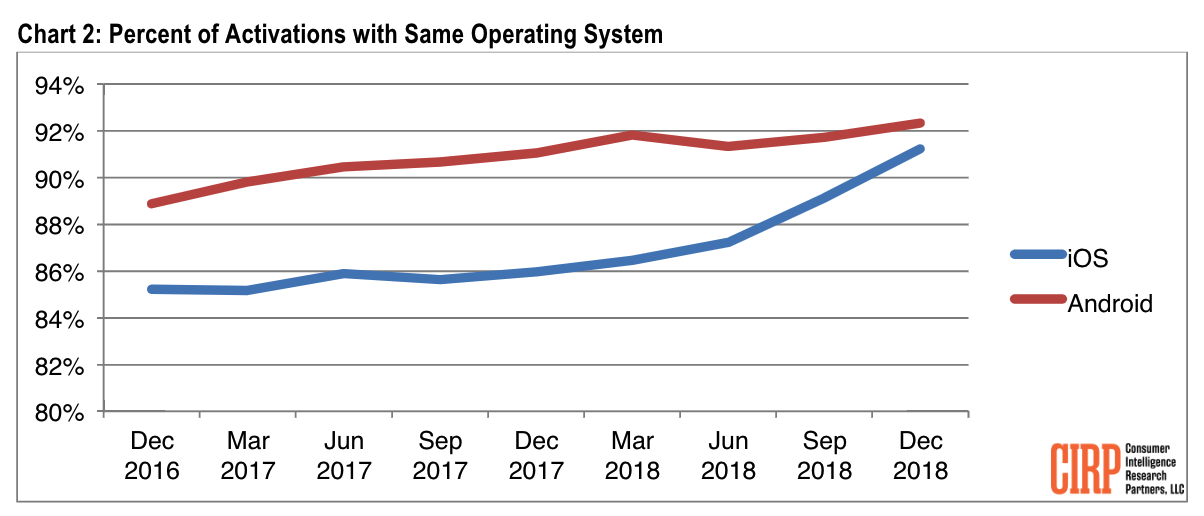 ---
More from the orchard
---
Competitors