Apple and China: what's going on & what could happen
Divorces suck, but sometimes are the only way forward
Greetings! Coming right up, the most interesting stuff about Apple in the past week. — Please forward this email to anyone you think might find it interesting.
---
First: I know there are plenty of Chinese and sinophiles reading this newsletter. I urge you to comment with your views, or correct what I get wrong. Thank you.
What's going on with China
🥶 Apple got a reminder that it's on the frontline of the cold war. After the U.S. extended sanctions on Huawei, the Communist regime talked through its outlets about punishing Apple in return, along with Cisco, Boeing and Qualcomm.
"I'm sure Tim Cook is tired of putting his diplomatic hat on", i said last year.
🤐 Apple depends on China, but doesn't like it. Supply side, Apple and many companies just can't make their devices outside of China. It's not just about cost btw, it's just not possible today. It would take a lot of money and years for another industrial power-zone to arise, or more likely: several mini power-zones.
---
🧧 What about demand? For a brief period of time, back in 2015 Apple got a huge growth spurt in China. In one quarter: 29% of total revenues came from what Apple defines as Greater China (PRC + Hong Kong & Macau + Taiwan). Apple had built a lot of stores and the new bigger iPhones were a hit: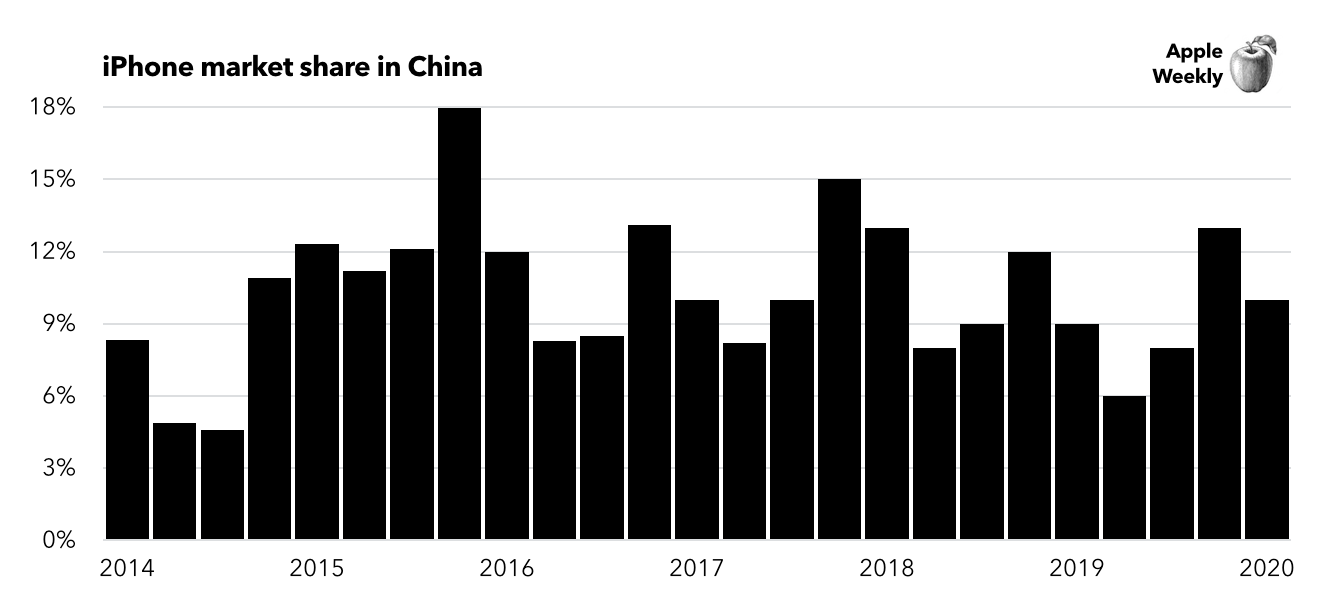 😭 But since then, it kinda fizzled out. For the past two years, Greater China revenue has been consistently around 16-17%. I'd love to see the numbers without Taiwan in the equation, but I don't have any available.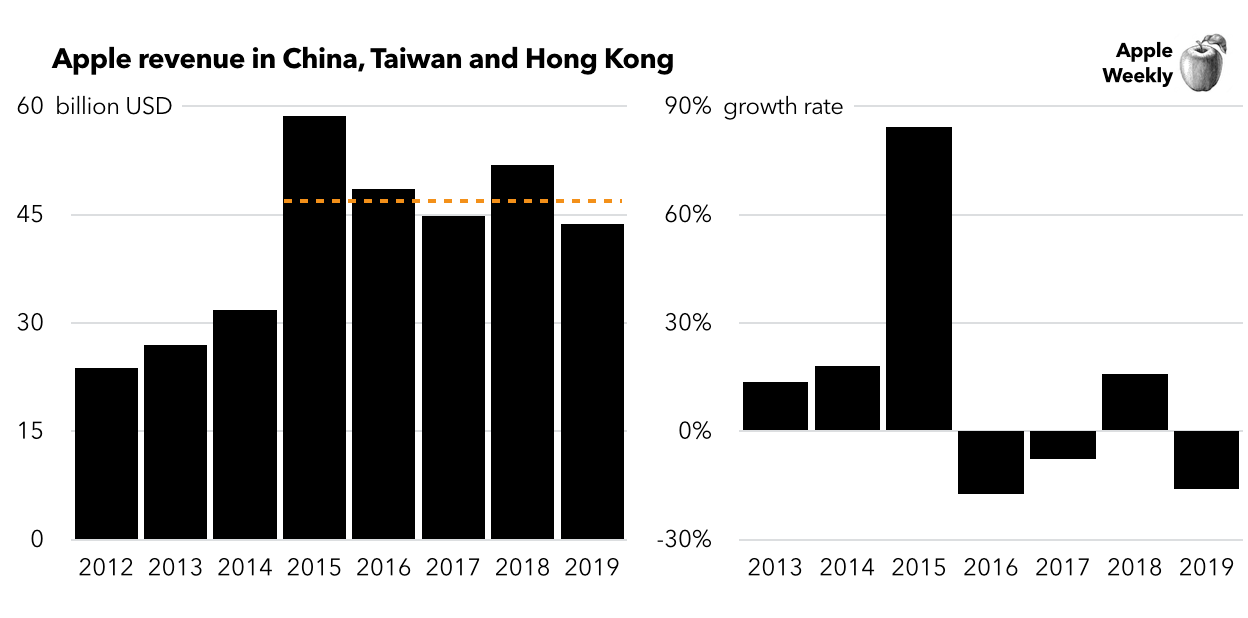 ---
🎮 Besides hardware, China is more important in services consumption. Chinese users spend the most in mobile apps and mobile games. China is to mobile gaming what Japan is to console gaming: a power house of both creation and consumption.
---
What could happen in China
🤜 It's my opinion that Beijing could hit the App Store first. By arbitrarily expanding the restrictions of what Apple can sell in there. They already banned Apple from offering VPNs, Western newspapers, U.S.-based iCloud, and so on. — Also, the gaming licensing is heavily regulated already.
⏮ It's also a soft spot because these rules could be lifted in an instant, unlike restricting manufacturers and providers to work with Apple, or banning the sales of devices. Apple is also very important to the Chinese industry.
🔮 It could allow Beijing to test the waters and see how Washington (and Cupertino) would react, while leaving their national industry largely unharmed. Chinese iPhone users could also consider switching to other brands if this restrictions are kept long enough.
---
Could Apple leave China
💰 Apple could leave China. It just would take a lot of billions and years. Divorces suck, but sometimes are the only way forward. If things don't abruptly break, Apple will just take it step by step. — Make some things in the U.S., some things in China, others in Vietnam, India, Taiwan, Thailand, Japan, etc.
🤔 Samsung did it! By the end of 2019, none of the Samsung smartphones were made in China, it was a "new blow" to the country according to the FT. Sony Mobile left too. Even Chinese OEMs are moving part of their production to India or Thailand. — Trade tensions could have been the final straw, but the decision was mostly economical.
⚙️ China got expensive, but not yet super-high tech. There are things that only Taiwan, Korea, Germany, Japan or the U.S. can make today. Importing those parts to be assembled by Chinese workers whose wages doubled in five years didn't make sense any more.
🇮🇳 Apple already moved some production to India, as a response to the Indian government stick and carrot doctrine. Apple and providers have been talking about this for a few years. Apple can afford to pay in advance part of the relocation costs. This will continue.
🇻🇳 Also now, some AirPods moved to Vietnam. "Some 3 million to 4 million units, or around 30% of total classic AirPods production this quarter" already re-sourced. AirPods are relatively simple to assemble, but it's a step. Vietnam has its own political issues, but labor is much cheaper.
---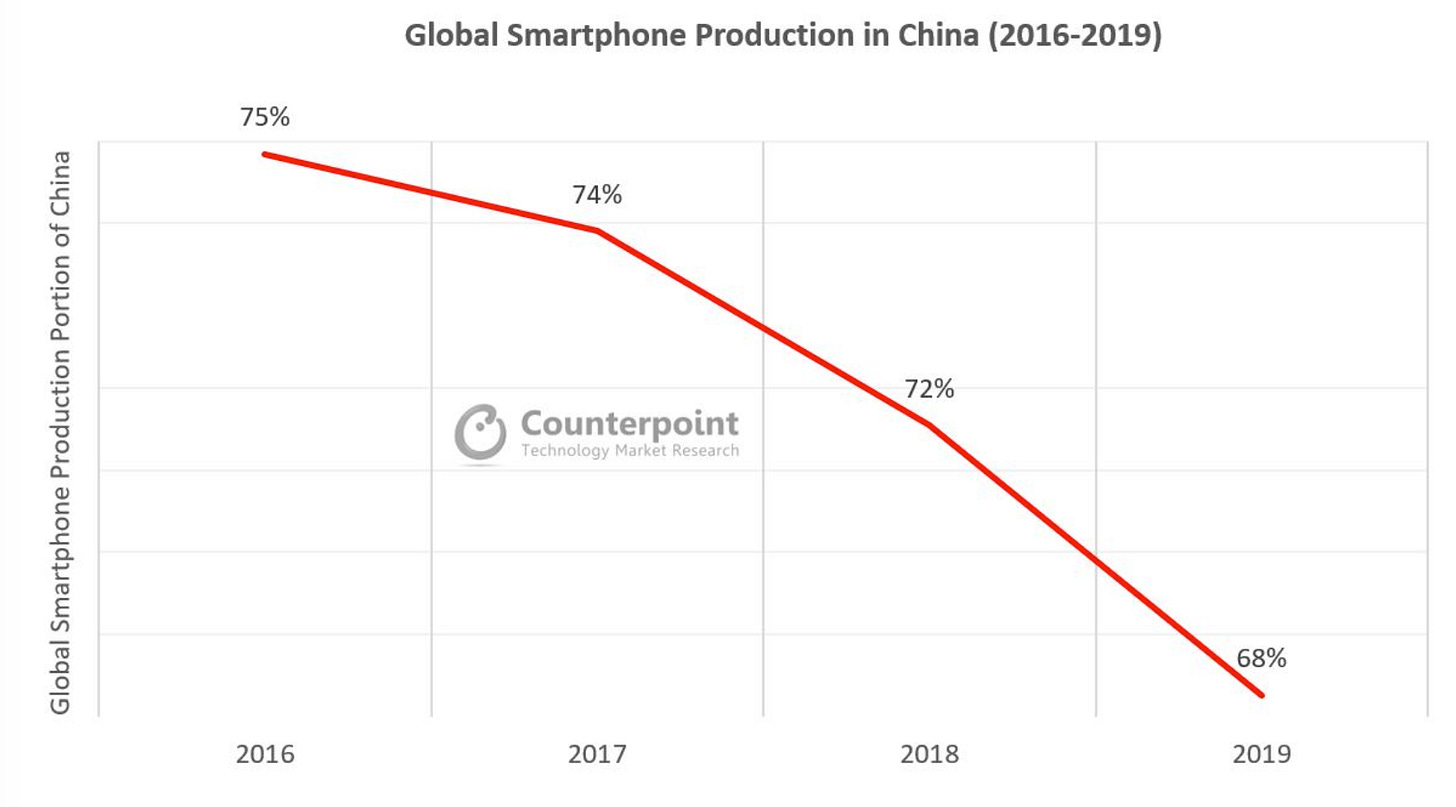 📊 Here's an amazing chart of the glacial smartphone shift away from China, from Counterpoint Research. Even past their peak, smartphones will continue to be the #1 selling electronics for years and years to come... but fewer and fewer will have a Made in China sticker.
---
Also, out of Silicon Valley
🌳 Apple also thinks outside the Park. The Apple Park will forever be the heart of the company, but the Austin campus will be huge, with enough capacity to accommodate 15,000 employees in the future. It broke ground in November and since then there has been an interesting recent addition:
🏨 Apple Austin campus will have a 192-room hotel attached.This shows thinking beyond "remote-first" or whatever. It appeared in a revised site plan approved by the City of Austin in late April. — This shows how fast the company has adapted to coronavirus.
🌐 Apple will never be "remote-first" but they certainly are remote-friendly for many of their Apple Park employees. Design and engineering will stay in Cupertino, but giving options to marketing, sales, support, services, cloud, payments, and so forth just makes sense. The offices in Toronto, Austin, Los Angeles, London, Dublin, etc. will just become bigger and more encompassing.
---
More from the Orchard
😷 iOS 13.5 will make easier to unlock with a mask. FaceID will detect if you're wearing a mask and instantly prompt to enter the password. It's still a hassle, but less so. — Apple couldn't make for the software to recognize you just with your eyes and forehead. It wouldn't be secure enough.
🤞 Rumor has it that iPhone 12 will get Touch ID again, by putting a new kind of sensor below the screen. This will be the best of both worlds, as both your fingers and your face could unlock it. — I still struggle to unlock it while in bed.
🐠 The great Scott Forstall did a public interview again. He talked about his past at Apple, told the dead-fish story again and inspired a bunch of kids learning to code.
---
Thank you for reading Apple Weekly. Please consider forwarding this email to your contacts or hitting the like button below. — Alex