AirPods in perspective
Apple Music vs the rest, Qualcomm trials starts & Bob Iger's place in the board
Good morning. Coming right up, the most interesting stuff about Apple in the past week. Only 15 days until the Apple News and TV event in Apple's HQ. — Please forward this email to anyone you think might find it interesting.
---
AirPods in perspective
Last week IDC published a new "wearable" panel which amalgamates Apple Watch with Apple's ear-worn devices such as the AirPods and the Beats headsets. Having IDC data for the Watch we can easily infer the AirPods figures: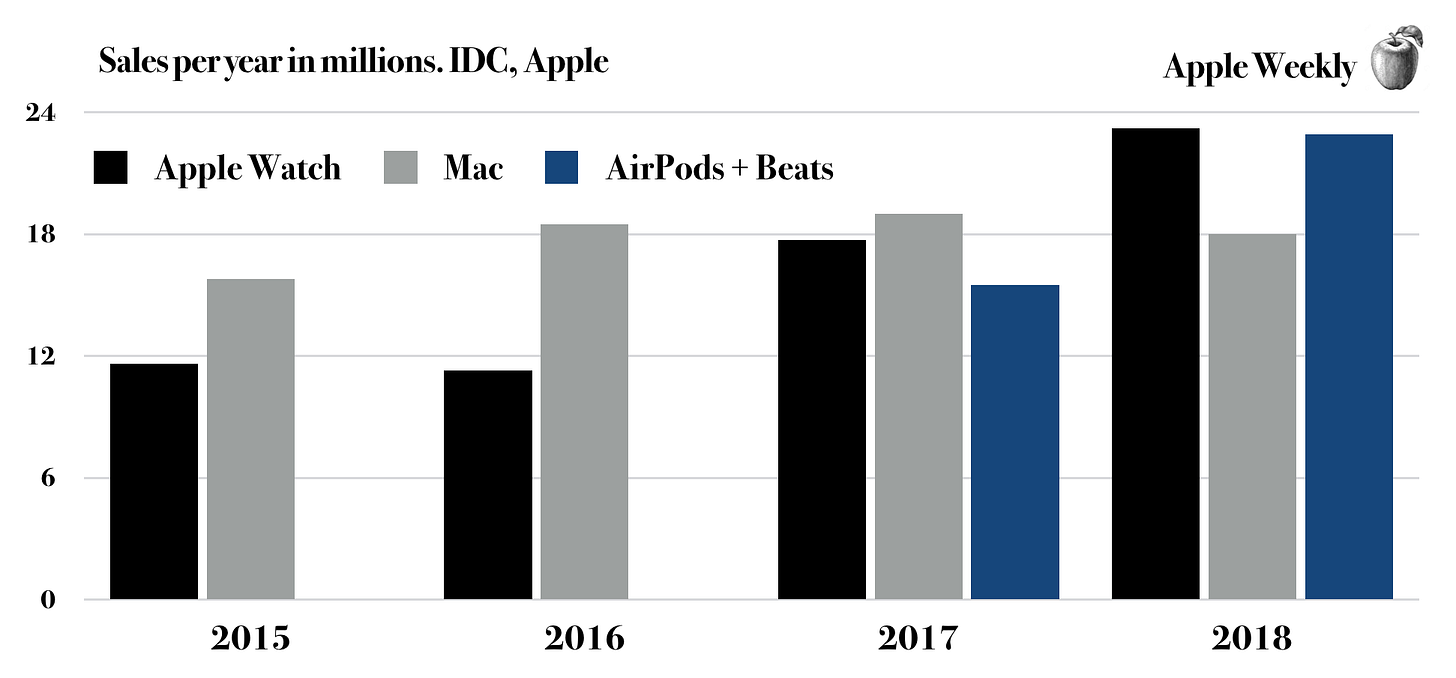 It's an estimate, but it does say a lot.
---
Apple Music vs the rest
U.S. Copyright Royalty Board ruled to increase payouts to songwriters to 44% for streaming services. Spotify, Pandora, YouTube and Amazon are protesting by appealing the decision, while Apple sits idly, accepting the outcome. This, in turn, reflects very well on how the industry is going.
---
U.S. Senator Elizabeth Warren wants to break-up Apple
And the other American big tech companies such as Google, Facebook and Amazon. For Apple, she says:
it should not get to both run the App Store and distribute apps in it. "It's got to be one or the other," she said. "Either they run the platform or they play in the store. They don't get to do both at the same time."
More of a shake up than a break up for Apple. Her message got quite a good reception in SXSW.
---
Qualcomm dispute with Apple enters the "entertaining" stage
Qualcomm seeks $1.41 per infringing iPhone sold in the U.S. since mid 2017, when the lawsuit was filed. "We have a dispute," Qualcomm attorney David Nelson told the jury in his opening statement. "We can't resolve it."
Bonus: Apple is adding 1,200 employees in San Diego in the next three years, to lure employees from Qualcomm.
---
Apple execs meddling with their move producers
"Tim Cook is giving notes and getting involved," said a producer who has worked with Apple. One of the CEO's most repeated notes is "don't be so mean!," the source said. — This sounds like every TV or studio owner to me.
---
Should Disney's Bob Iger resign from Apple's Board?
Disney+ and Apple Video (or whatever it's going to be called) will make the two companies competitors, and Iger should step down. He was recently reelected.
---
Apple fixed the 'Flexgate' issue
With a silent MacBook Pro redesign that added 2 millimeters more to the flex cable that was wearing and tearing, giving the backlight cable more room to wrap around the board.
---
Siri Head of Explaining needed
Apple is looking for someone to gather public comments and present them to its leadership team, and what fixes should or could be done. The new position is aptly called "Siri Social Media Analysis & Marketing Production".
---
More from the orchard
---
Competitors
---
Thank you for reading Apple Weekly. Please consider forwarding this email to your contacts. — Alex