Ahrendts out, iPad robust growth and Srouji modems
Today at Apple creator leaves the company after five years
During her tenure Ahrendts started a frenzy of renovations and created the Today at Apple courses. — Taking her place is Deirdre O'Brien, a 30 year veteran of Apple, who also leads Apple's HR division.
A few notes:
Ahrendts said in 2017 the company referred to the stores as "town squares".

Apple has 506 stores worldwide. And plans to open their first in two important markets: Thailand and Israel.

I will try to gather data, but my impression is that the pace of new store openings is now slower than ever.

Eddy Cue and Phil Schiller are now the only SVPs in the same position today as they were when Tim Cook became CEO.
---
With a 26% share of the market in 2018. The iPad grew from 44 to 45 million units sold this year, while the overall tablet market shrunk another year from 185 million units to roughly 174 million according to Strategy Analytics.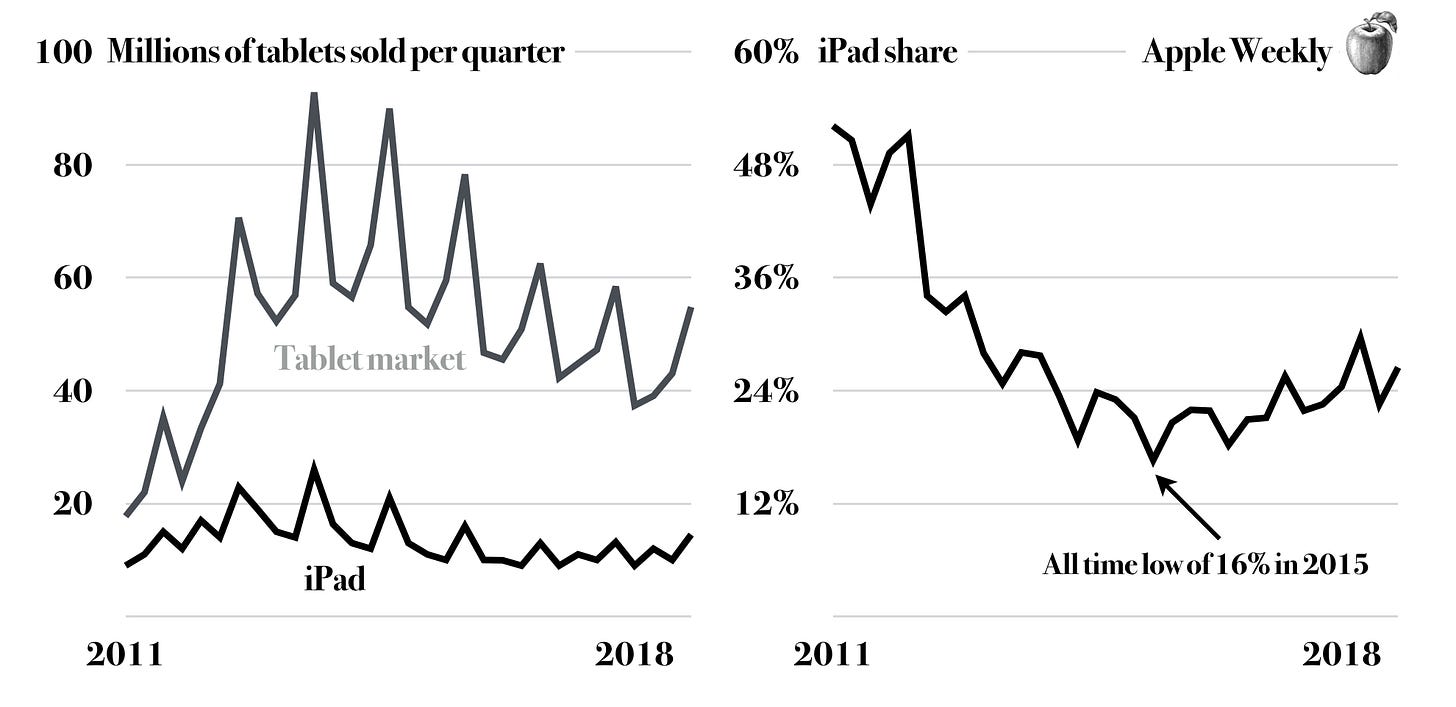 A few notes:
The iPad share of total sales hit rock bottom in mid 2015 just before the iPad Pro was released.

Apple has sold around 440 million iPads to date. Less than one for every iPhone (28%)
---
It looks like Johny Srouji, Apple's senior vice president of hardware technologies, took over the company's modem design efforts in January. The A series chipset is going to be complete.
---
While Google and Amazon keep releasing cheap and cheaper versions, the HomePod has already sold around 4 million units in the US. — That's around 6% of the 66 million total installed base (PDF).
---
According to the rumour, Apple will purportedly start shipping in about a month from now some new variants of the iPhone 7 and iPhone 8 in Germany. Those new models won't contain Qorvo's accused (though most likely non-infringing) envelope tracker chip, but some other chipset replacing it.
---
More from the Orchard
---
Competitors