A tariff ceasefire leaves Apple expecting
The 10% tax for iPhones is off for now
During the G20 meeting in Argentina, China and the US sat together and agreed to pause and evaluate where they're going for 90 days: no new tariffs and no increase to 25% in January 1st. For now, this is good news for Apple.
---
Apple says the iPhone XR has been its top-selling iPhone since launch. Apple won't release iPhone total figures anymore, but this is obviously a response to reject reports of the XR model doing not so well in Japan (a traditional iPhone stronghold) and uncertainty of its suppliers.
---
Microsoft Is Worth as Much as Apple. How Did That Happen?asks the New York Times while noting that Satya Nadella has played his cards very well during this last 4 years, making Microsoft the only company that really challenges Amazon on the cloud and focussing on business interests.
---
Apple Music will be available on Alexa devices starting December 17th. The unexpected agreement will allow all 50 million Apple Music subscribers to play music on Amazon Echo and other Alexa devices — I'm sure this deal has been negotiated in parallel to last week's agreement to put Apple products on Amazon's store.
---
Tim Cook defends multibillion-dollar Google search deal despite Apple's privacy focus. The CEO says they put many privacy safeguards in place to prevent the worst cases of tracking and abuse, but Google's search engine is "the best".
---
A24 and Apple have entered an agreement that will see the film studio produce multiple features for Apple over the course of several years. — A24 has grown into one of the most prestigious distributors of art-house cinema in the country, earning acclaim and awards for the likes of "Room" and "The Lobster" before winning Best Picture with 2016's critically adored "Moonlight."
---
Interesting App Store scam. A now removed app called "Heart Rate Measurement" claimed to read your heart rate through your fingertip using Touch ID, while actually used your fingerprint to authorise a transaction for $90 while dramatically dimming the screen to fool the user.
---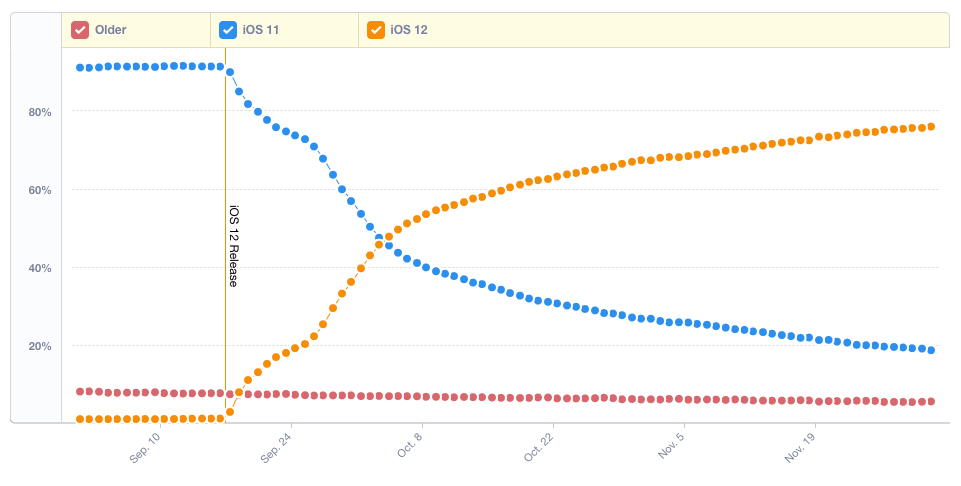 iOS 12 adoption crosses 75% upgrade rate beating iOS 11according to Mixpanel. For its part, Apple reported that 60% of all devices are using iOS 12 as of October 29th.
---
Apple Watch ECG capability will arrive with watchOS 5.1.2 according to an internal Apple Store training document obtained by MacRumors.
---
Apple Watch users 34 percent more active when exercises tracked. A study by the RAND Corporation of 400,000 people across the US, Europe and South Africa found that incentives including subsidised Apple Watches significantly improved people's activity.
---
Apple in talks to make vets' health records available online. The company is looking to provide patients with better access to their health records, and a deal with the VA would give that effort a significant boost.
---
Project Fi by Google (US only MVNO) is now rebranded as Google Fi and works in iPhones too.
---
Data recovery company DataSavers allegedly has a technology that brute forces iOS devices to unlock them for $3,900.
---
Stockholm has rebuffed the tech giant's scheme to build a new Apple Store in the Kungsträdgården, the city's central square.
---
iPhones in the US will be allowed to use the European Galileo positioning system already onboard as the FCC lifts restrictions.