A 10 year-long debate resurrects
Spotify vs Apple, a look at Apple's capex, more bad news from China
Salutations! Coming right up, the most interesting stuff about Apple in the past week. Only 8 days until the Apple News and TV event in Apple's HQ. — Please forward this email to anyone you think might find it interesting.
---
Spotify vs Apple vs Reality
Spotify open letter is here, signed by Mr. Ek himself, while Apple's response twodays later can be found here. I'll be digesting what both companies claim, point by point, but be aware that both companies talk about very different issues:
(1) "Choice" vs "security"
Spotify: In recent years, Apple has introduced rules to the App Store that purposely limit choice and stifle innovation at the expense of the user experience (...) acting as both a player and referee to deliberately disadvantage other app developers.

Apple: At its core, the App Store is a safe, secure platform where users can have faith in the apps they discover and the transactions they make.

Reality: both companies aren't even talking about the same thing. Or at least focusing in the same thing. Spotify would like more openness, while Apple argues that would bring unsafer choices for their users. This is a decade long discussion that won't be solved here by not addressing each others' points.
(2) Operators
Spotify: (1) Apple operates a platform that, for over a billion people around the world, is the gateway to the internet. Apple is both the owner of the iOS platform and the App Store (2) they continue to give themselves an unfair advantage at every turn. (3) We should all be subject to the same fair set of rules and restrictions—including Apple Music

Apple: Spotify is free to build apps for — and compete on — our products and platforms, and we hope they do..

Reality: Spotify wants to have all the features of Apple's own music streaming service. Apple doesn't do that because their own apps doesn't go through the same vetting process. Apple apps can use custom APIs and obviously, don't pay the 30% cut to themselves.
(3) Physical vs digital
Spotify: We simply want the same treatment as numerous other apps on the App Store, like Uber or Deliveroo.

Apple: Apps that sell physical goods — including ride-hailing and food delivery services, to name a few — aren't charged by Apple.

Reality: would be great if Apple extended this to a broader category of digital services, and not only physical goods. But this could be chaotic to distinguish what's what.
This won't solve anything
Spotify, and many others', point that Apple can not fairly operate the App Store while also using it, has technical merit, but legally this is on murky grounds. After a decade, the U.S. Supreme Court is looking at it at the moment, and now, the EU Commission.
---
Apple's declining capex
Neil Cybart is intrigued by the company's reasons behind the 13% drop in capital expenditures for 2019. For the first time in 16 years, Apple expects its capex to decline during the current fiscal year. He offered a follow-up in his paid articles.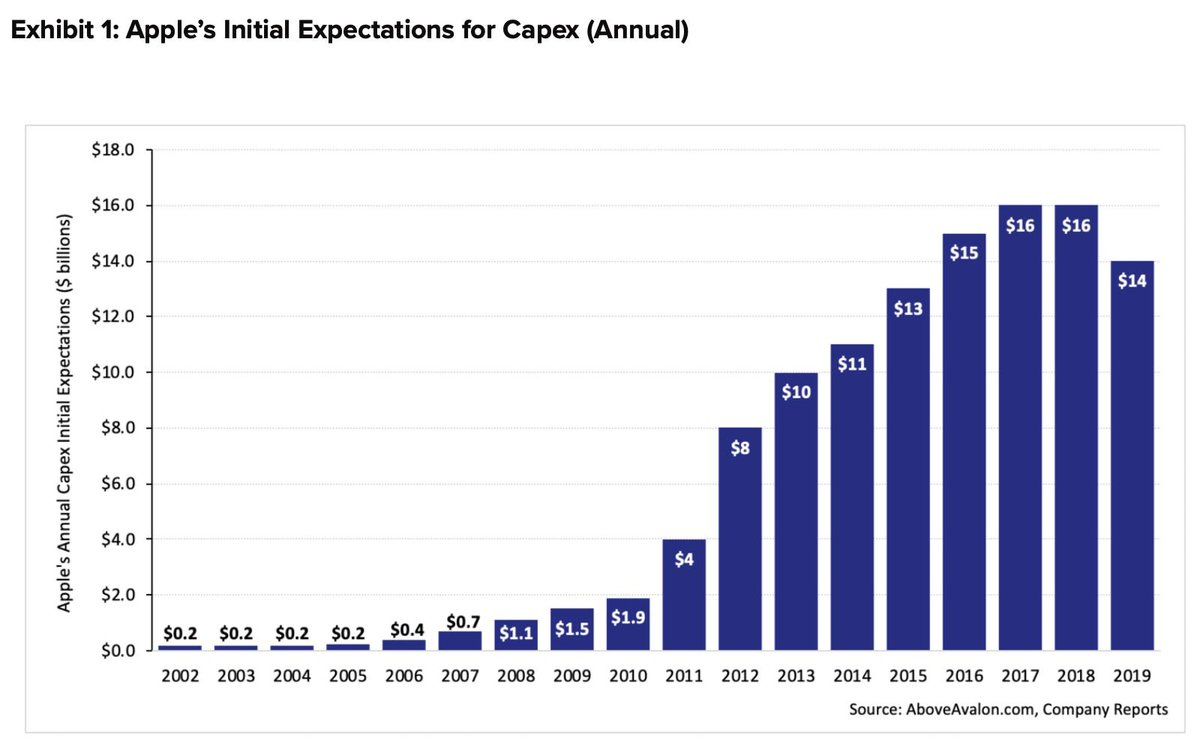 By the time 2019 closes the actual figure could be different, but Cybart offers the most probable four points if Apple ends up spending "only" $14 billion: (1) fewer new Apple Stores, (2) less tooling and machinery spending, (3) Apple overspent in the past, and (4) they're wrong.
---
More bad news from China
The number of searches for the iPhone on Chinese search engine Baidu cratered by 48% in February after dropping 50% in January, according to Longbow Research. "searches also have an 82 percent correlation to iPhone shipments into China".
---
China's mobile phone market plunged nearly 20% year-on-year in February. Neil Shah from Counterpoint says "Apple and Xiaomi continue to be the biggest losers whereas Huawei, Vivo and OPPO continue to grab more share away".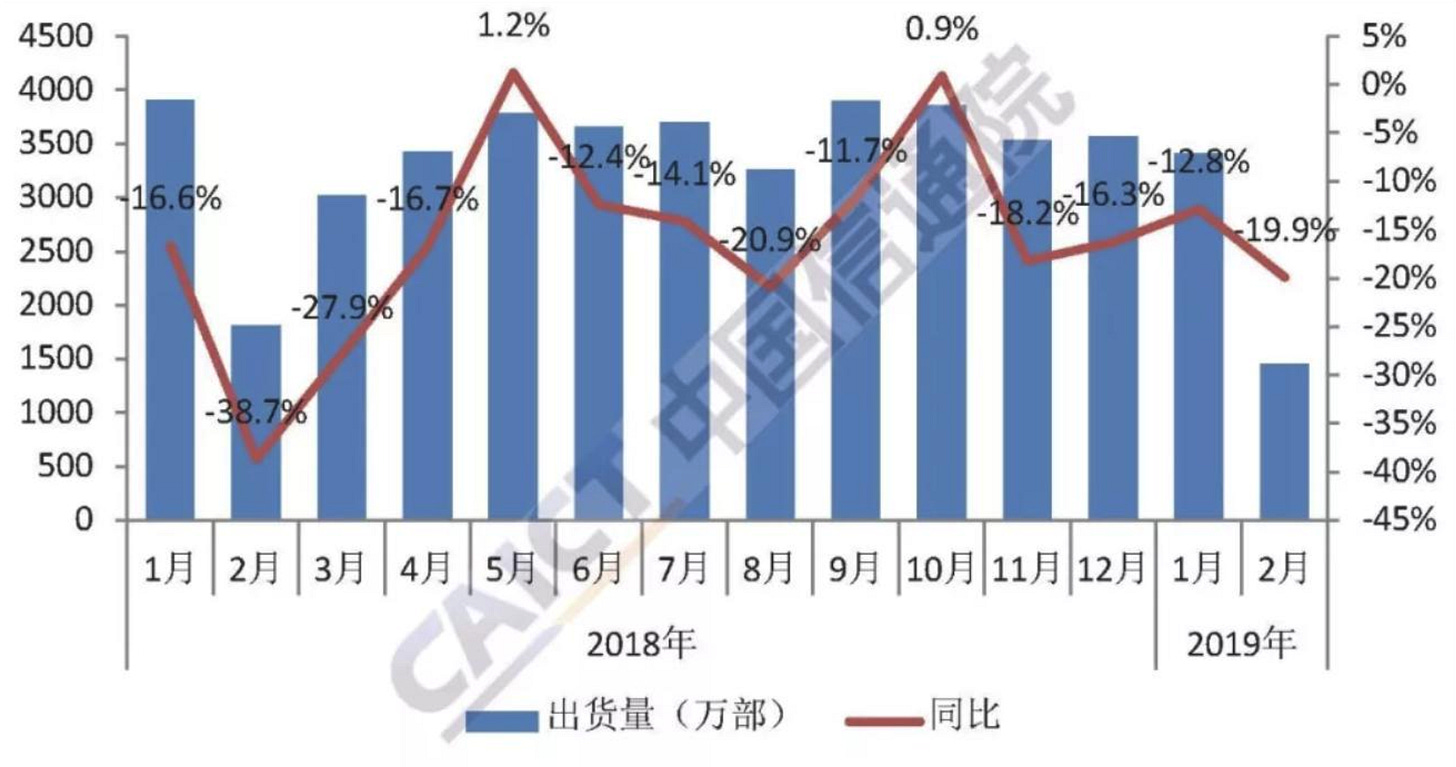 ---
According to IDC, iPad shipments in China still lead, but "were about 8.37 million units, down 6.4% year-on-year, accounting for 37.8% market share". underperforming a market that shrunk just by 0.8%.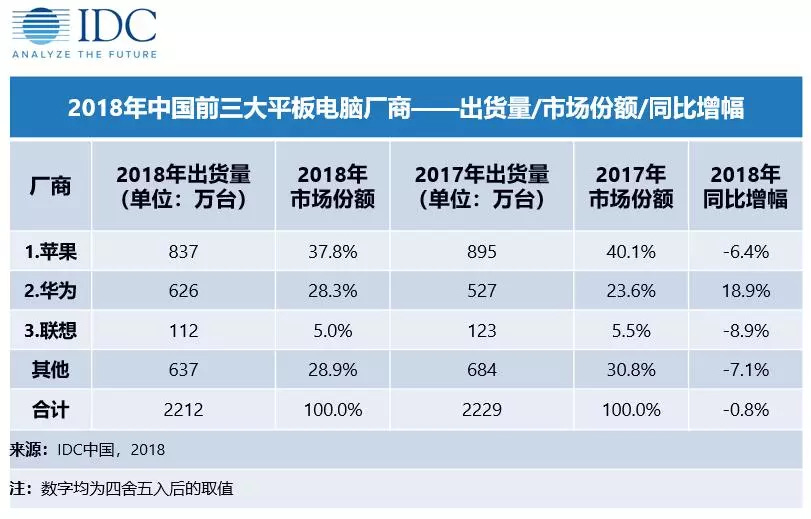 ---
Tim Cook to get a biography
Unauthorized, of course, but "The Genius Who Took Apple to the Next Level" will focus on Cook's time as the CEO of Apple, what makes him different from Steve Jobs and his stance on privacy. It comes out on April 16.
The author, Leander Kahney, has two more books, one about Jony Ive and another about Steve Jobs, which I haven't read.
---
Apple bought Laserlike
A small startup founded by Google veterans. Laserlike tech could improve Siri and add plenty of human talent John Giannandrea's staff in Apple.
---
More from the orchard
---
Competitors
---
Thank you for reading Apple Weekly. Please consider forwarding this email to your contacts. — Alex